Prosciutto Caprese on Sourdough
Recipe by Tina Gravalos


Ingredients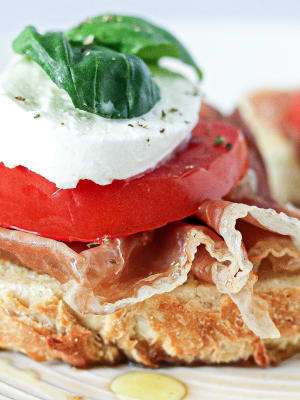 There's always a way to enjoy your favourite foods with a healthier twist. Choosing quality ingredients is the key. It makes your food taste that much better! From the bread down to the prosciutto, head to your local bakery and butcher to taste and experience the difference.
Instructions
1

Preheat oven to 400 degrees F and place sourdough slices evenly apart on a baking sheet.

2

Using 1 tablespoon of olive oil, brush on top of each piece of bread or put on your hands and rub on the bread.

3

Take the garlic clove and rub it all over each piece of bread.

4

Sprinkle desired amount of dried oregano over each piece of bread.

5

Bake for 10 minutes.

6

While the bread is baking, heat a frying pan on medium-low heat and add the prosciutto. Crisp for 2-3 minutes per side.

7

To plate, drizzle 1 teaspoon of olive oil and 1 teaspoon of balsamic vinegar on a plate. Add one piece of toasted bread and layer with 1 piece of crispy prosciutto, 1 tomato slice, 1 buffalo mozzarella slice and 2 fresh basil leaves. Repeat to create the rest.

8

Substitutions: To make gluten-free, use gluten-free bread. To make vegetarian, omit prosciutto.
Notice: Content at this site is not intended to prescribe, treat, mitigate, prevent, diagnose or cure any medical condition or its symptoms, which advice should only be obtained from a qualified health professional.