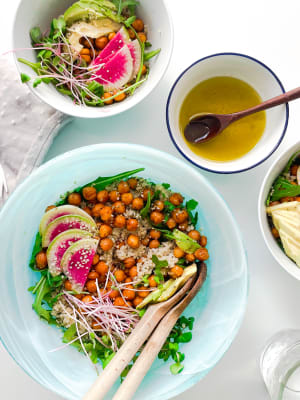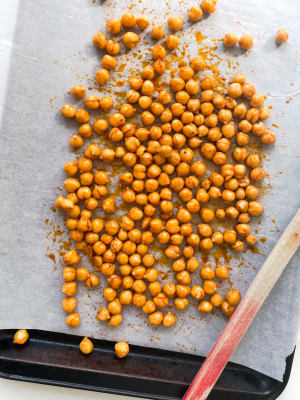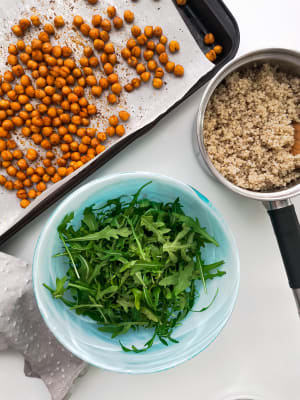 The bold and bright colours of this Quinoa Power Bowl are just one of many reasons why this salad is so great! After a tough workout, choosing the right fuel for your body is key, which is why this plant-based protein-packed salad was created. While exercise can help strengthen muscles and bones, it can also cause an increase of free radicals. This Quinoa Power Bowl is full of antioxidant vitamins, minerals, flavonoids and anti-inflammatory omega 3's from the avocado, arugula, quinoa, and hemp seeds which will help combat the oxidative stress of exercise. Plus, it offers great sources of protein to help with muscle recovery and building.
Instructions
1

PREHEAT: oven to 375F. Line a baking sheet with parchment paper.

2

MIX: Your chickpeas, ½ tsp of olive oil, paprika, garlic powder, cumin, ¼ tsp salt and 1/8 tsp of black pepper together in a bowl. Spread out evenly on the baking sheet and roast for 25 minutes or until slightly crispy.

3

SHAKE: ¼ cup of olive oil, balsamic vinegar, lemon juice, minced garlic, maple syrup, Dijon mustard and salt and pepper to taste together in a jar or mix in a bowl.

4

ASSEMBLE: the salad by tossing the arugula together with the quinoa. Top with the avocado, hemp seeds, watermelon radish, roasted chickpeas and microgreens. Toss with dressing when ready to serve.
Notice: Content at this site is not intended to prescribe, treat, mitigate, prevent, diagnose or cure any medical condition or its symptoms, which advice should only be obtained from a qualified health professional.