Pistachio Oat Milk Ice Cream
Recipe by Jaclyn Irwin


Ingredients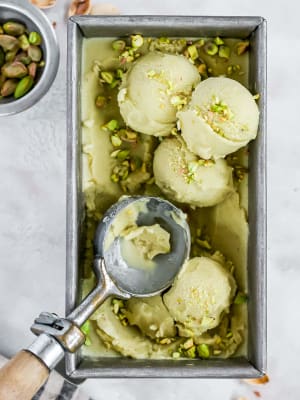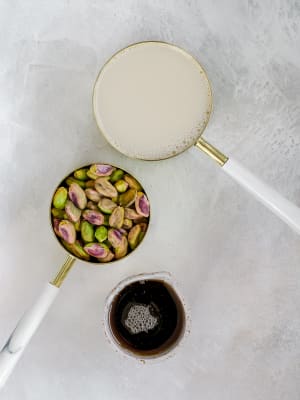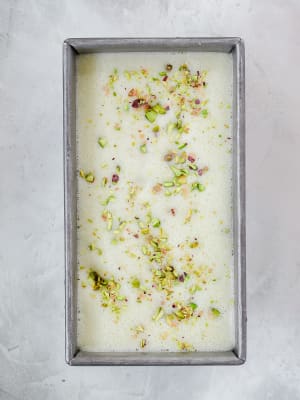 This easy no churn pistachio ice cream is loaded with tons of flavour. Plus, you only need a small handful of ingredients. If you have an ice cream maker, use that, as it will have a slightly better texture as no churn ice cream can become a little icy. This recipe is great for gluten free, dairy-free, and low sugar conditions or diets.
Instructions
1

In a blender, pour in the pistachios, oat milk, maple syrup and salt. Blend on high until completely smooth. If using an ice cream maker, pour this into the machine and follow the manufacturers instructions.

2

If you are doing the no churn method, pour this into a freezer safe container and place in the freezer. Freeze for 30 minutes, remove and stir vigorously then place back in the freezer and repeat this process every 30-45 minutes for 2 to 3 hours. The ice cream will take about five to six hours to reach the correct consistency. If the ice cream is too icy after this time, let it sit out on the counter until soft enough to blend again in the blender. Blend on high until smooth and then place back in the freezer for about one hour for soft serve ice cream.

3

When ready to eat, let it sit out for about 10 minutes before scooping as it will be too hard to scoop straight from the freezer.

4

Notes: This ice cream will taste best within one week of making. A splash of vodka or gin helps limit the formation of ice crystals and can be added to the mix when blending. Do not exceed 1.5 oz if using. You can substitute the pistachios for any other nut or nut butter.
Notice: Content at this site is not intended to prescribe, treat, mitigate, prevent, diagnose or cure any medical condition or its symptoms, which advice should only be obtained from a qualified health professional.