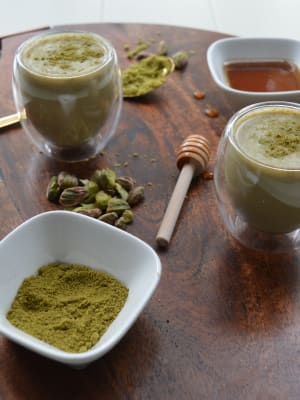 Matcha is high in antioxidants and catechins (a compound) found in green tea. It has many benefits; it increases energy, alkalizes the body, enhances brain function, contains anti-cancer properties and protects the liver. Pistachios are a source of protein, healthy fat, and fiber. They are rich in B vitamins, protect the eyes and improve skin health.
Instructions
1

In a small pot, bring milk to a simmer on medium-high heat.

2

In a mug, mix ground pistachio, cardamom, and cinnamon together. Pour hot milk on top and whisk together using an electronic hand mixer (whisk attachment). Alternatively, you may use a regular whisk, or blender.

3

In a small bowl, whisk matcha powder with boiling hot water. Pour hot matcha mixture on top of spiced hot milk (for a foam effect do the opposite, pour hot milk slowly into the mug, over the matcha)

4

Whisk/blend in vanilla and maple syrup (adjust sweetness to taste). Decorate with a sprinkle of cinnamon, cardamom, matcha or pistachio.
Notice: Content at this site is not intended to prescribe, treat, mitigate, prevent, diagnose or cure any medical condition or its symptoms, which advice should only be obtained from a qualified health professional.