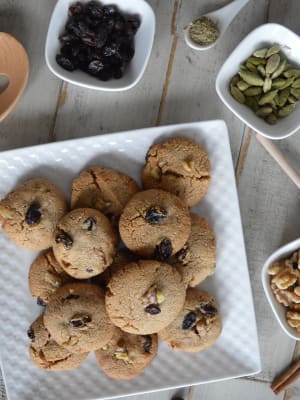 For a variety of cookie flavors, follow this recipe by simply substituting your choice of nuts, dried fruits, and chocolate. These cookies are moist, chewy, and soft when first baked, however, they will slightly crisp when not stored in an airtight container once cooled. If they lose their soft and chewy texture, best eaten dunked into milk or tea, yum!
Instructions
1

Preheat your oven to 350 °F, and set the baking rack in the center of the oven.

2

Mix together dry ingredients - pistachio flour, almond flour, coconut flour, cardamom, cinnamon, and matcha powder (optional), salt and baking soda.

3

In a separate bowl, stir together wet ingredients - maple syrup, melted coconut oil, and vanilla extract.

4

Add the dry flour mixture to the wet mixture and stir altogether. Thoroughly fold in pistachios. (tip - smooth out batter by making a big ball)

5

Roll tablespoon size balls and place them onto a cookie sheet/ pan lined with parchment paper. Gently press balls into small round circles.

6

Bake for 8-10 minutes. These cookies bake quickly, take them out when ready, allow them to cool and enjoy!
Notice: Content at this site is not intended to prescribe, treat, mitigate, prevent, diagnose or cure any medical condition or its symptoms, which advice should only be obtained from a qualified health professional.