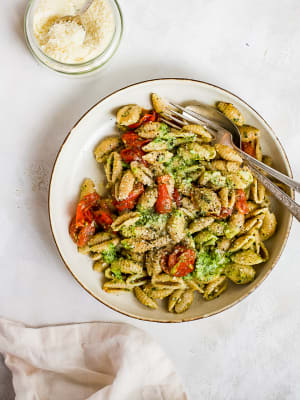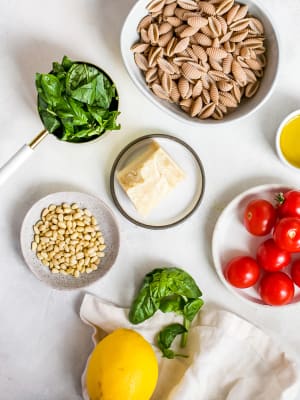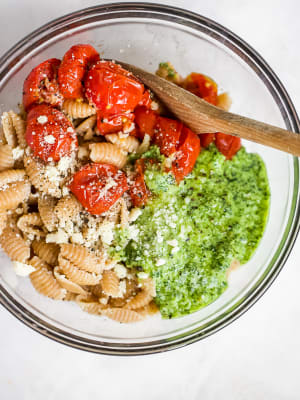 This pesto pasta is simple and delicious, both hot or cold, making it a perfect pack-ahead option! Store any leftover pesto in the fridge for up to 5 days, or freeze for longer. This dish is great for low-sugar, kosher, or vegetarian diets.
Instructions
1

Preheat the oven to 400ºF and line a baking sheet with parchment paper.

2

Place the cherry tomatoes on the baking sheet—drizzle tomatoes with olive oil and season with salt and pepper. Cook for 25 to 30 minutes, until the tomatoes burst a little and brown on the bottom.

3

Meanwhile, bring a large pot of salted water to a boil. Add the pasta and cook according to package directions. Drain and set aside, drizzle with olive oil to prevent sticking.

4

Heat a small skillet over medium heat. Toast the pine nuts until lightly browned, about 3 to 5 minutes. Remove from heat and set aside.

5

Add the pine nuts, basil, lemon juice, and parmesan cheese to a food processor or blender. Pulse to combine. Drizzle the oil into the food processor and blend until smooth—season with salt to taste.

6

Add the pasta and tomatoes to a large bowl and toss with the pesto. Serve and enjoy!

7

Substitutions: No cherry tomatoes, use larger tomatoes and chop. No cheese, use nutritional yeast. No pine nuts, use another nut and/or seed such as walnuts or pumpkin seeds.
Notice: Content at this site is not intended to prescribe, treat, mitigate, prevent, diagnose or cure any medical condition or its symptoms, which advice should only be obtained from a qualified health professional.