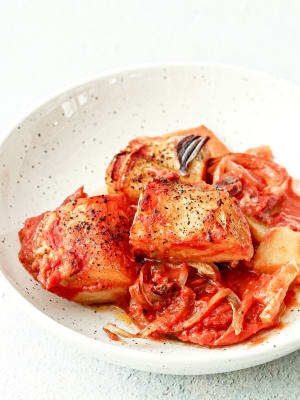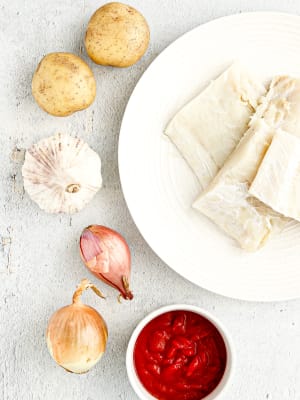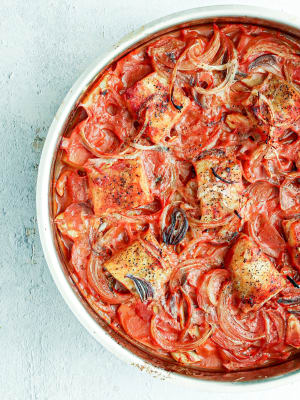 This dish is perfect if you're looking for some comfort food. It is packed with flavour from all the garlic and onions. White fish like cod is a good source of omega 3's, protein, vitamin B12, selenium and phosphorus as well as other vitamins and trace minerals. It is a staple in the Mediterranean diet which supports heart health, brain health, immune health and much more.
Instructions
1

Preheat oven to 425 degrees F and prepare a medium sized round baking pan.

2

In a shallow bowl, add fish and 2 tablespoons of olive oil. Rub all over fish. Add ¼ teaspoon black pepper and rub all over again. Set aside.

3

Thinly slice the potatoes and add them to a bowl, season with sea salt and remaining black pepper. Set aside.

4

Add 2 tablespoons of olive oil to the pan and spread around with your hands.

5

Layer pan with sliced potatoes.

6

Spread cod fillets out on top of potatoes.

7

Spread sliced onion all over. Then do the same with the garlic cloves.

8

In a cup, add the passata sauce and then dilute with ¼ cup of water. Pour all over the pan to make sure there is enough liquid.

9

Bake for 40 minutes covered. Then uncover and cook for another 20 minutes.

10

Remove from the oven and plate by adding a piece of fish along with a scoop or two of potatoes and onions.

11

Store in an airtight container in the fridge for up to 2 days.
Notice: Content at this site is not intended to prescribe, treat, mitigate, prevent, diagnose or cure any medical condition or its symptoms, which advice should only be obtained from a qualified health professional.