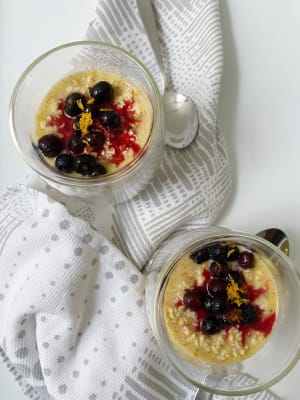 Breakfast that tastes like ice cream!
Instructions
1

In a bowl combine the oat milk, 1 cup of orange juice, ½ the amount of orange zest, vanilla, maple syrup and oats. Cover and refrigerate 4-8 hours.

2

In a small pot, combine the raspberries and remaining orange juice and simmer for 3 minutes. Remove from heat, mash the raspberries and strain.

3

To serve, spoon the oats into a bowl or cup, spoon over the raspberries sauce and garnish with blueberries and orange zest.
Notice: Content at this site is not intended to prescribe, treat, mitigate, prevent, diagnose or cure any medical condition or its symptoms, which advice should only be obtained from a qualified health professional.