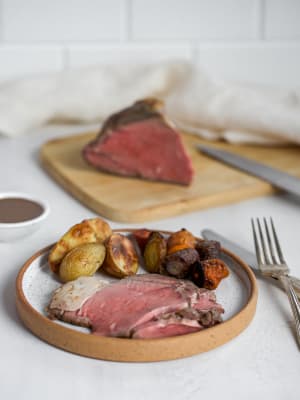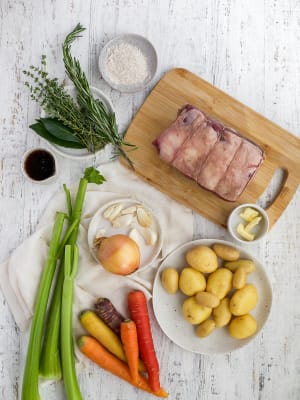 Sunday roast dinner made with potatoes, carrots and celery. Plus use the drippings and a bit of red wine to make your own gravy!
Instructions
1

Generously season the roast on all sides with salt and pepper.

2

Heat a large dutch oven over medium heat. Add a splash of extra virgin olive oil. Add the roast and sear on all sides until browned. Then remove and set aside.

3

Preheat the oven to 325ºF.

4

Add the onion, garlic, celery, carrots and potatoes to the dutch oven and season with salt and pepper. Use a splash of beef stock to release any brown bits if needed. Then add the roast on top of the veggies. Add the rosemary, thyme and bay leaves.

5

Place in the oven to cook for 70 to 90 minutes, until the internal temperature reaches about 20 degrees below your desired consistency (as it rests, the temperature will rise).

6

Let the roast rest for at least 45 minutes.

7

Meanwhile, make the gravy. Remove about ⅓ of the carrots, celery, onion and garlic and all of the potatoes and bay leaves from the dutch oven and set aside.

8

Over medium heat, with the remaining veggies left in the dutch oven, add the spelt flour and smash the veggies using a masher. Add the red wine to the pot to deglaze. Then add the beef stock and bring to a boil. Reduce the heat and let it simmer for about 25 to 30 minutes.

9

After the roast has rested, add any juices into the gravy before you strain it.

10

Pour the gravy from the dutch oven into a smaller pot using a sieve to catch any chunks of veggies and keep over low heat. Season with salt and pepper to taste. Skim any fat that rises to the top.

11

Once the roast has rested, use a sharp carving knife to cut into thin slices.

12

Serve alongside the potatoes and veggies and top with gravy. Enjoy!

13

Substitutions: Gluten free, use a gluten free flour instead of spelt. No wine, omit and use only stock.

14
Notice: Content at this site is not intended to prescribe, treat, mitigate, prevent, diagnose or cure any medical condition or its symptoms, which advice should only be obtained from a qualified health professional.