One Pot Pasta Puttanesca
Recipe by Jaclyn Irwin


Ingredients
Serves 02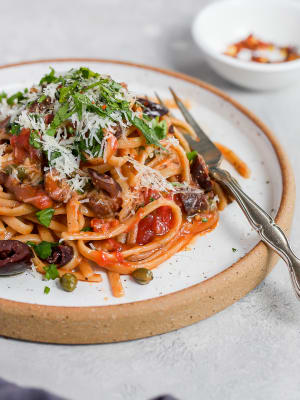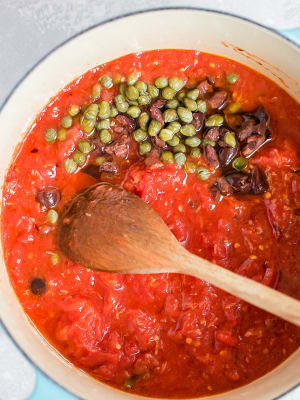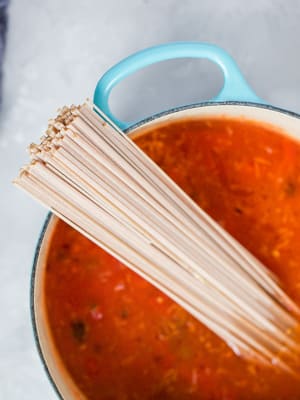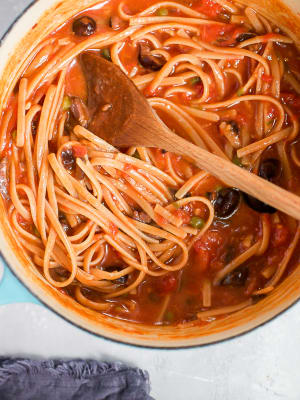 A delicious and easy pasta dinner for a weeknight meal! Perfect dinner for two or will provide leftovers for the next day. Enjoy with your pasta of choice!
Instructions
1

Heat a dutch oven over medium-low heat and add the oil. Once hot, add the garlic and anchovies and cook for 1 to 2 minutes, until fragrant.

2

Add the tomatoes, chili flakes, capers and olives and crush the tomatoes with the back of a wooden spoon.

3

Add the water and the spaghetti and bring to a boil, while mixing the pasta in the water with tongs to avoid any sticking. Keep stirring often with the tongs to avoid any sticking, until cooked al dente, about 10 minutes, or according to package directions.

4

Once the pasta is cooked, drain any excess liquid if any remains with a spoon or cup, most of it should be absorbed.

5

Divide onto plates and top with parmesan cheese and parsley. Season with salt and pepper. Enjoy!

6

Substitutions: No spelt pasta: try another type of pasta, gluten free pasta may not work the same as it usually requires to be drained and rinsed. No anchovies: omit. No whole tomatoes: use crushed or diced tomatoes. No dairy: omit the cheese and use nutritional yeast. Keep it vegan: omit the anchovies and cheese. No kalamata olives: use another type.
Notice: Content at this site is not intended to prescribe, treat, mitigate, prevent, diagnose or cure any medical condition or its symptoms, which advice should only be obtained from a qualified health professional.