One Pot Creamy Orzo with Vegetables
Recipe by Fran Allen


Ingredients
Serves 02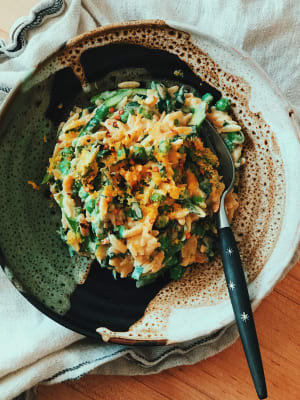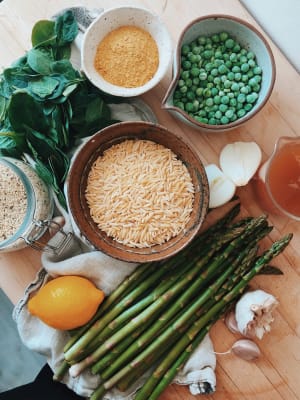 This perfectly creamy dairy free orzo pasta is loaded with spring veggies and protein. This recipe comes together in less than half an hour and all in one pot to make this dish the perfect weeknight wonder!
Instructions
1

In a blender mix the hemp hearts, nutritional yeast, garlic powder, ½ tsp of salt and water, blend until smooth. Adjust seasoning to your liking and set aside.

2

In a skillet on medium heat, warm the olive oil, onions and garlic until translucent. Add the chili flakes if using, then add the orzo and coat with the olive oil and onion mixture.

3

Add your vegetable stock and stir until well combined. Turn the heat on low and simmer until the stock is absorbed into the orzo (about 8 minutes).

4

Add your cream sauce and chopped asparagus and stir until well combined and creamy. Add your peas and spinach and taste for seasoning.

5

Finish with lemon juice, zest and fresh pepper. Serve immediately and enjoy! Garnish with parsley and your favourite parmesan cheese. Leftovers can be stored in an airtight container in the fridge for up to 4 days.

6

Substitutions: Feel free to substitute vegetable stock with chicken stock or water, just make sure to adjust the salt and pepper for the best results. To make the cream sauce with dairy, substitute the nutritional yeast and garlic powder and salt with ¼-½ cup parmesan or pecorino cheese. To make this dish gluten-free, substitute the orzo for a gluten-free option or small pasta. You may need to decrease the vegetable stock, start with 2 cups instead of 2.5 cups. Feel free to substitute with vegetables you have on hand! Try tomatoes, roasted squash or kale! This recipe is easy to adapt with what you have on hand.
Notice: Content at this site is not intended to prescribe, treat, mitigate, prevent, diagnose or cure any medical condition or its symptoms, which advice should only be obtained from a qualified health professional.