One Pan Shakshuka
Recipe by Fran Allen


Ingredients
Serves 04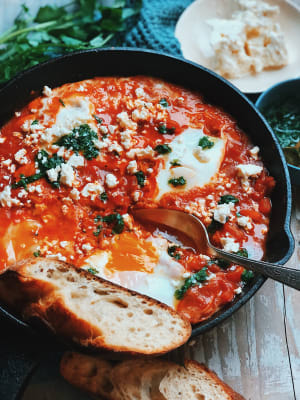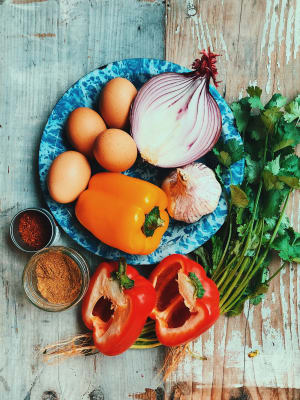 This one pan dish is a star! Perfect for weekend brunch or a quick and easy dinner, loaded with plenty of fresh veggies, protein and flavour. This meal is warm, comforting and comes together quickly! Perfect for busy nights when you want something simple and satisfying.
Instructions
1

Preheat the oven to 375 degrees Fahrenheit. Warm 2 Tbsp of olive oil in a large, oven-safe skillet over medium heat. Once shimmering, add the onion, bell pepper, and salt. Cook, stirring often, until the onions are tender and turning translucent, about 4 to 6 minutes.

2

Add the garlic, cumin, paprika and red pepper flakes. Cook, stirring constantly, until nice and fragrant, 1 to 2 minutes.

3

Pour in the crushed tomatoes with their juices Stir, and let the mixture come to a simmer. Reduce the heat to maintain a gentle simmer and cook for 5 minutes to give the flavors time to meld.

4

Turn off the heat. Taste and add salt and pepper as necessary. Use the back of a spoon to make a well near the perimeter and crack the egg directly into it. Gently spoon a bit of the tomato mixture over the whites to help contain the egg. Repeat with the remaining 4 to 5 eggs, depending on how many you can fit. Sprinkle a little salt and pepper over the eggs.

5

While the eggs are cooking make your parsley oil. Combine chopped parsley, cilantro, remaining olive oil and white wine vinegar into a small dish. Sprinkle with a pinch of salt and let sit until ready to serve.

6

Carefully transfer the skillet to the oven (it's heavy) and bake for 8 to 12 minutes, checking often once you reach 8 minutes. They are done when the egg whites are an opaque white and the yolks have risen a bit but are still soft. Carefully transfer the hot skillet to a heat-safe surface like the stove. Top with the crumbled feta, parsley cilantro oil, and more red pepper flakes, if desired. Serve in bowls with thick toasted bread on the side

7

Substitutions: To make this keto: omit the bread. To make this gluten free: serve with gluten-free bread instead of conventional. To make it dairy free: Omit the feta. To replace its salty punch, top the shakshuka with ¼ cup halved and pitted Kalamata olives or capers. To make it vegan: Omit the eggs and substitute with chickpeas (1 can, rinsed and drained, or 1 ½ cups cooked chickpeas) stirred in with the crushed tomatoes. Omit the feta and replace its salty punch by topping the shakshuka with ¼ cup halved and pitted Kalamata olives or capers.
Notice: Content at this site is not intended to prescribe, treat, mitigate, prevent, diagnose or cure any medical condition or its symptoms, which advice should only be obtained from a qualified health professional.