One Pan Chicken Fajitas
Recipe by Tina Gravalos


Ingredients
Serves 04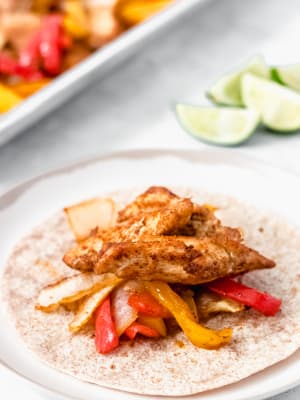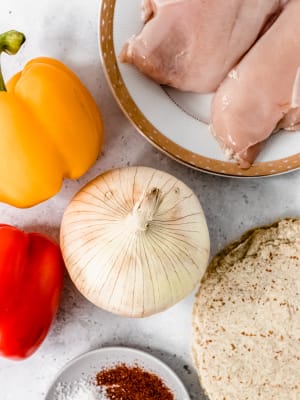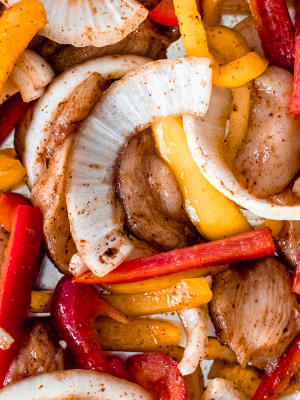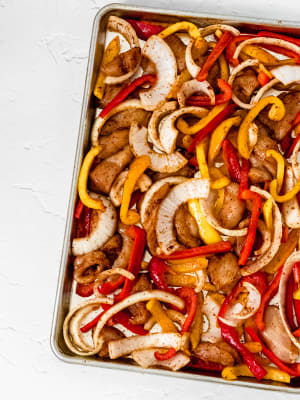 One pan meals take the stress out of all the dishes you acquire when cooking. These one pan fajitas are easy to prepare and are ready to eat in under 30 minutes. Fajitas are a delicious way to get more protein (from the chicken) into your diet. Our organs, tissues, muscles and hormones are all made from proteins. When you consume foods rich in protein, you're providing your body with the essential nutrients it needs to function at its best. Getting enough protein in your diet helps to support blood sugar balance, brain health, improves mood, supports heart health, bone health and much more.
Instructions
1

Preheat oven to 425 degrees F and grease a large baking sheet with 1-2 tablespoons avocado oil.

2

In a large mixing bowl, add the chicken strips, sliced peppers, sliced onions, 2 tablespoons avocado oil, chili powder, chipotle powder, garlic powder, sea salt and mix until chicken and vegetables are coated with oil and spices. Add more oil if needed. Spread on baking sheet.

3

Pour chicken and veggies onto the baking sheet and spread out to create an even layer.

4

Bake for 20-25 minutes or until chicken is cooked and the vegetables are tender and browned. Flip chicken over half-way through. You can also flip the vegetables if needed.

5

Serve on a tortilla (grain-free or gluten-free), lettuce wrap or with brown rice (no wrap).

6

Store leftovers in an air-tight container in the fridge for up to 3 days.

7

Optional toppings: guacamole, salsa, tomatoes, lettuce, sour cream, cilantro, hot sauce.
Notice: Content at this site is not intended to prescribe, treat, mitigate, prevent, diagnose or cure any medical condition or its symptoms, which advice should only be obtained from a qualified health professional.