Mussels in a Spicy Tomato Sauce
Recipe by Jaclyn Irwin


Ingredients
Serves 06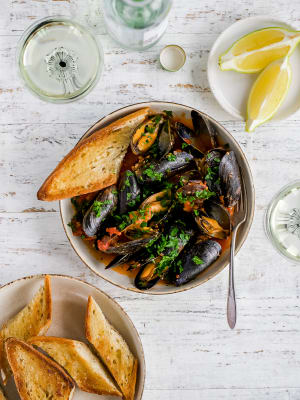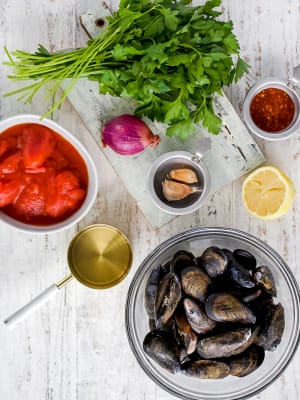 Don't be intimidated to cook mussels, they're actually quite easy to prepare. And these mussels are tossed in a thick, spicy white wine tomato sauce. Easily prep the sauce in advance to save time. This recipe is great for gluten free, grain-free, diabetes, mental health and low sugar conditions or diets.
Instructions
1

Prep: Clean your mussels and make sure to discard any open ones.

2

Heat a dutch oven over medium heat. Pour in the olive oil and once hot, add the shallots and cook until translucent, stirring occasionally. Once cooked, add the garlic and cook until fragrant. Add in the sambal oelek and stir to combine. Pour in the wine and deglaze the pot.

3

Add the tomatoes, crushing with your hands as you add them in. Stir in the lemon juice and zest. Bring to a low boil and then reduce the heat and simmer for 20 minutes, until reduced and thickened.

4

Once the sauce has thickened, add in the mussels and cover with a lid. Cover and steam for about five minutes. As the mussels open, remove them and add them to a large bowl, until all are opened. If any remain closed, discard.

5

Pour the mussels with the sauce into a large bowl and top with parsley and season with salt and pepper. Serve with crusty, toasted bread. Enjoy!

6

Substitutions: If you don't have Sambal Oelek you can omit or use chili flakes.
Notice: Content at this site is not intended to prescribe, treat, mitigate, prevent, diagnose or cure any medical condition or its symptoms, which advice should only be obtained from a qualified health professional.