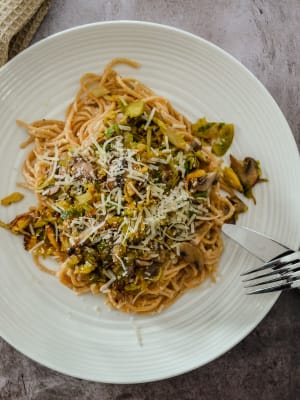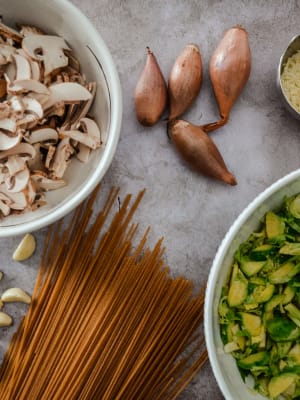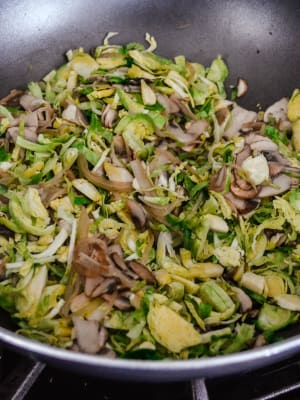 This is not your traditional carbonara with a heavy cream sauce and bacon, although I promise it's just as tasty! Savoury mushrooms and thinly shredded Brussels sprouts provide the vegetables and a lightened up cream sauce (no cream!) makes this dish a great option for the whole family, even kids! This creamy carbonara-inspired pasta feels indulgent, but it gets a boost of fiber and prebiotics from the Brussels sprouts, and the healthier cream sauce makes it a great treat for diabetics and those with heart disease. It's a satisfying option for vegetarians and will keep those wanting to incorporate meat-free meals full all night. Lastly, it can easily be made gluten-free for those with celiac disease by using a gluten-free pasta and soy sauce.
Instructions
1

Cook pasta al dente according to package directions, usually 10-12 minutes.

2

While the pasta is cooking, add 1 tbsp. oil to a large non-stick pan and heat over medium-high. Add mushrooms and shallots and cook for 4 minutes, stirring occasionally. Add Brussels sprouts and continue cooking, stirring occasionally, for 4 minutes. Season with paprika and soy sauce and cook for an additional 1 minutes.

3

While the vegetables are cooking, add 1 tbsp. olive oil to a second large frying pan, and heat over medium-high heat. Add garlic and sauté for one minute, stirring occasionally. Sprinkle in flour, stirring to combine. Sauté for an additional one minute to cook the flour, stirring occasionally. Slowly add vegetable broth, whisking to combine. Next, add milk, whisking until smooth and combined. Let mixture cook for 1-2 minutes until thickened, then stir in parmesan cheese, salt and pepper, mixing until cheese is melted. Reduce heat to low and simmer until pasta is finished cooking.

4

Drain pasta, then immediately add pasta to the sauce pan with cream sauce. Add sautéed vegetables, tossing to combine.

5

Serve with extra parmesan cheese sprinkled on top and enjoy!

6

Substitutions: Sub your favourite pasta for spaghetti in this recipe. Gluten-free? Easily substitute gluten-free pasta. Not a fan of mushrooms? Skip them or swap them with sauteed peppers, zucchini or onions. Want to up the veggie content? Add in extra vegetables of your preference! Sub butter for olive oil in the cream sauce if you please.
Notice: Content at this site is not intended to prescribe, treat, mitigate, prevent, diagnose or cure any medical condition or its symptoms, which advice should only be obtained from a qualified health professional.