Miso Butter Steak with Mushrooms
Recipe by Jaclyn Irwin


Ingredients
Serves 02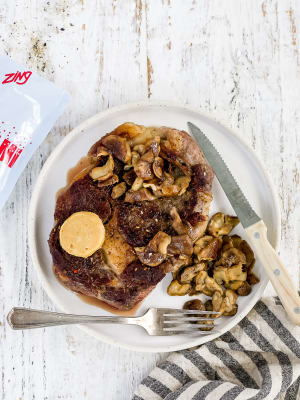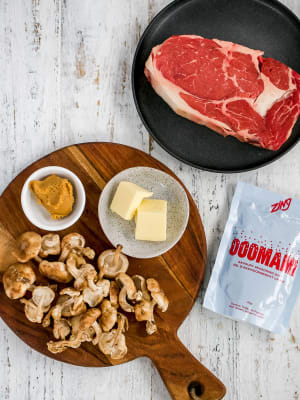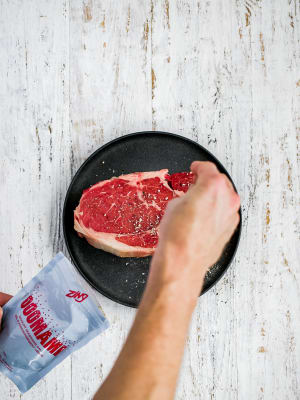 Steak night just got even better. Seasoned with Zing's Ooomami Seasoning Salt and topped off with an easy miso compound butter and lots of shiitake mushrooms. This is the umami meal of your dreams!
Instructions
1

Combine the butter and miso paste in a small bowl and mix well with a fork to combine. Place it on a small piece of plastic wrap (or parchment paper) and roll it into a small circle. Place in the fridge for one hour.

2

Pat the steak very dry with a paper towel. Season with Zing Ooomami Seasoning Salt and pepper.

3

Heat a cast-iron skillet over medium heat until hot. Add the oil. Place the steak in the middle of the skillet and cook for 13 to 15 minutes, flipping and turning every two to three minutes, until a dark crust has formed on both sides and the steak is cooked to your liking. Remove the steak and set aside to rest for at least ten minutes.

4

Reduce the heat and add the mushrooms and garlic and cook until the mushrooms have softened and cooked through, about four to five minutes.

5

Top the steak with the miso butter slice and mushrooms. Serve and enjoy!

6

Substitutions: No shiitake mushrooms: use another type of mushroom, or a mix of your favourites. No dairy: use a vegan butter.
Notice: Content at this site is not intended to prescribe, treat, mitigate, prevent, diagnose or cure any medical condition or its symptoms, which advice should only be obtained from a qualified health professional.