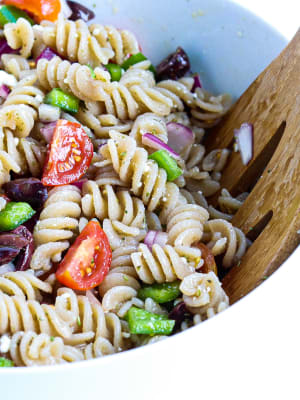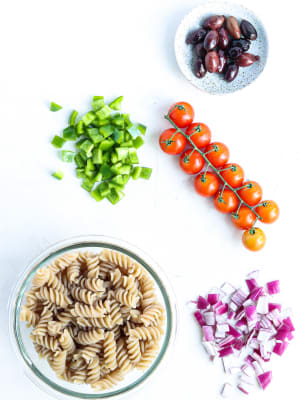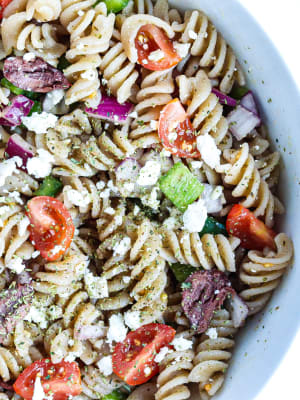 Pasta salad is a staple in many households but sometimes it can be a little heavy to digest. This salad uses gluten-free pasta as well as goat milk feta, which is easier to digest than cow's milk feta. It's packed with digestive friendly ingredients like extra-virgin olive oil and lemon juice, to help reduce inflammation.
Instructions
1

Cook pasta according to instructions on the package.

2

Once the pasta is cooked, drain it and run it under cold water to make it a cold pasta salad. Drain again and then add to a large bowl.

3

Dice the bell pepper and red onion. Slice the tomatoes into quarters. Pit the olives and slice them in half. Add the pepper, onion, tomatoes, olives, oregano, sea salt and mix to combine.

4

Add the olive oil and lemon juice and mix.

5

Crumble the feta on top and mix again.

6

Serve with your favourite protein like chicken, steak or fish.

7

Store in an airtight container in the fridge for 2-3 days.

8

Substitutions: This recipe used cassava flour pasta. You can also use chickpea, lentil, brown rice, or quinoa pasta. Want more veggies, add diced cucumber, zucchini, carrots. Dairy free, omit Feta.
Notice: Content at this site is not intended to prescribe, treat, mitigate, prevent, diagnose or cure any medical condition or its symptoms, which advice should only be obtained from a qualified health professional.