Maple Miso Shrimp & Broccoli
Recipe by Fran Allen


Ingredients
Serves 04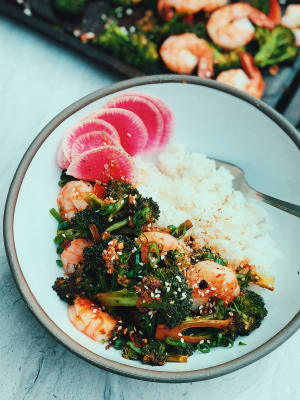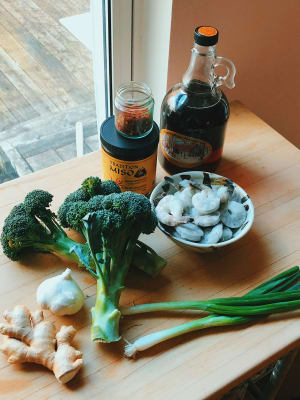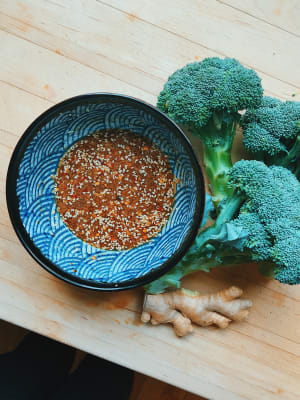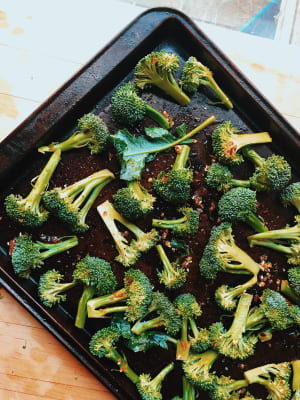 This super simple dinner is a weeknight wonder! The sweet and spicy marinade sauce tastes amazing on tender shrimp and crispy broccoli. Add some rice, quinoa or noodles and you have a great dinner on your hands.
Instructions
1

Place a rack in the center of the oven and preheat the oven to 400 degrees F. Line a large rimmed baking sheet with foil and coat with nonstick spray.

2

In a small bowl, whisk together the soy sauce, rice vinegar, sesame oil, maple syrup, water, garlic, miso and ginger. Drizzle the broccoli with half of the sauce and toss to combine.

3

Place the broccoli florets in the center of the sheet pan. Bake for 15 minutes, flipping halfway through.

4

Put aside 2 tablespoons of sauce for drizzling later. Then toss the shrimp in the remaining sauce.

5

Add shrimp to sheet pan with cooked broccoli, making sure everything is spread out into an even layer. Return to the oven and cook for 5-7 minutes. Shrimp will be pink and opaque when done.

6

Remove from the oven and sprinkle with sesame seeds and green onion.

7

Drizzle with the last drops of the sauce and enjoy immediately or with prepared rice, quinoa or soba noodles.

8

*To make this dish soy-free substitute 2 tablespoons of soy sauce for 2 tablespoons of coconut aminos and 1 teaspoon of miso for ½ teaspoon of anchovy paste.

9

*To make this dish plant based, substitute 1 pound of shrimp for 1 block or firm tofu, drained.

10

*To make this dish low carb/keto friendly, substitute prepared rice for shredded cabbage or riced cauliflower.

11

*Substitute coconut aminos for soy sauce.
Notice: Content at this site is not intended to prescribe, treat, mitigate, prevent, diagnose or cure any medical condition or its symptoms, which advice should only be obtained from a qualified health professional.