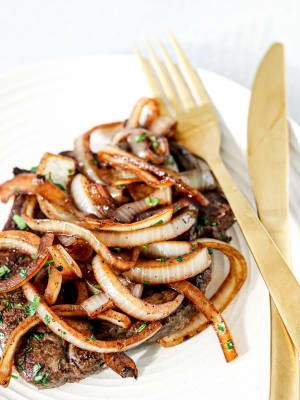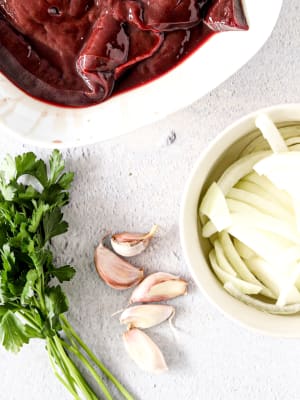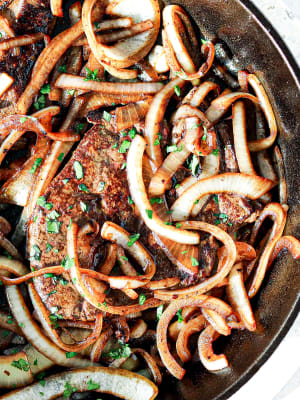 Liver is packed with nutrients but often gets overlooked. It is a good source of protein, vitamin A, iron, zinc, B vitamins, so basically it's like a multivitamin! It is especially beneficial for reproductive health and fetal development.
Instructions
1

Rinse liver under cold water and then place it in a shallow bowl. Sprinkle ¼ teaspoon sea salt all over.

2

In a large skillet, on medium heat, heat the olive oil.

3

Add the liver and cook for about 5 minutes or until browned on both sides. Flip halfway through.

4

Remove from the pan and set aside.

5

In the same pan, add the onions and minced garlic. Season with remaining ¼ teaspoon sea salt.

6

Cook onions until they are translucent and tender. Add the liver back to the pan for about 1-2 minutes.

7

To plate, add a piece of liver and top with onions. You can also serve with rice, mashed potatoes or your favourite salad.

8

Store in an airtight container in the fridge for up to 3 days.

9

Notes: If you want to cut the strong taste of liver, you can soak the liver for up to an hour in organic buttermilk. *You can dredge liver in tapioca flour before cooking. Usually the liver will come in 3-4 bigger pieces in the package. If you buy it pre-sliced in strips, you can cook it the same way as above.
Notice: Content at this site is not intended to prescribe, treat, mitigate, prevent, diagnose or cure any medical condition or its symptoms, which advice should only be obtained from a qualified health professional.