Lemon Tarragon Halibut & Leeks
Recipe by Jaclyn Irwin


Ingredients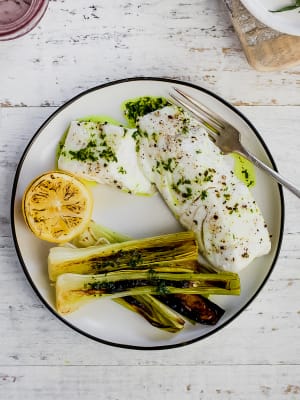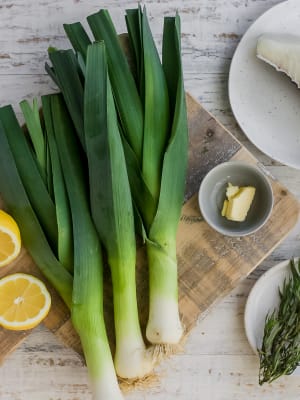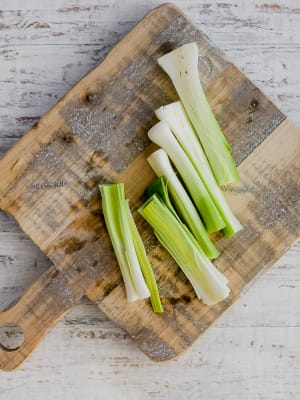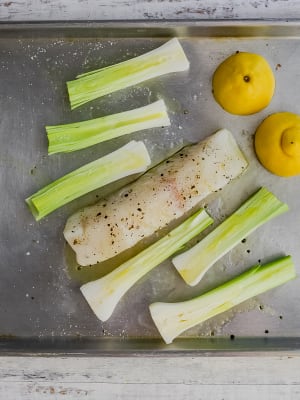 If you feel like splurging on fish, halibut is a good bet. This meaty fish is rich in omega 3's and has a delicate flavour and soft texture when cooked. I like serving it with minimal prep and ingredients so that you can really taste the flavour of the fish. This is great for gluten free, grain-free, mental health and low sugar conditions or diets.
Instructions
1

Preheat the oven to 425ºF.

2

Drizzle half the olive oil on the leeks and season with salt and pepper. Place on a baking sheet. Bake in the oven for 10 minutes.

3

Meanwhile, drizzle the remaining oil on the halibut and season with salt and pepper.

4

Remove the leeks from the oven and add the halibut and lemon to the baking sheet. Cook for 10 to 12 minutes, until the halibut is cooked through and just starting flake.

5

Meanwhile, melt the butter over low heat in a small saucepan, add the tarragon.

6

When the fish is finished cooking, divide the leeks and fish onto plates and drizzle the tarragon butter over top. Serve and enjoy!

7

Substitutions: No leeks, use green onions, lessen the cooking time. No dairy, use ghee or use olive oil instead of butter. No halibut, use seabass or cod.
Notice: Content at this site is not intended to prescribe, treat, mitigate, prevent, diagnose or cure any medical condition or its symptoms, which advice should only be obtained from a qualified health professional.