Lemon Fennel Pork Chops with Squash
Recipe by Julia Gibson


Ingredients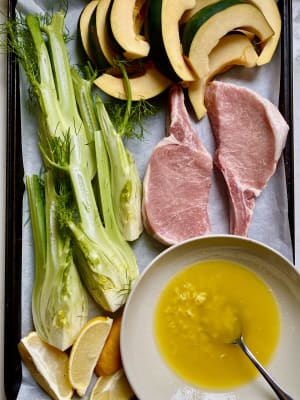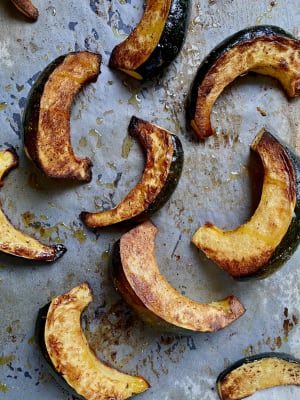 An easy 1-pan dish that is mostly hands free and needs minimal clean-up, these pork chops are the perfect weeknight meal. The squash and fennel caramelize from the lemon garlic butter marinade from the pork chops, which cook perfectly in the oven. Serve with a simple salad to complete the meal!
Instructions
1

Preheat your oven to 425 degrees Fahrenheit.

2

In a small dish or bowl, mix together the melted butter, 2 tablespoons of extra virgin olive oil, juice of 1/2 the lemon and 4 minced garlic cloves. Season the pork chops with salt on both sides, and then marinate in the dish of melted butter and olive oil.

3

Line a large baking sheet with parchment paper. Place the sliced squash on the pan and drizzle with 1 tablespoon of extra virgin olive oil, and season with salt and pepper. Spread out on a baking sheet with the cut side down. Roast for 20 minutes, flipping halfway.

4

At 20 minutes, remove the squash from the oven, flip the squash and add the pork chops and fennel to the baking sheet. Roast for another 20 minutes, flipping the pork and fennel halfway through.

5

Let the pork chops rest for a few moments before serving. Serve with fennel fronds and lemon wedges.

6

Substitutions: Sub acorn squash for any other squash or for any type of potato. Sub fennel for brussels sprouts or broccoli if you don't like it. Sub pork chops for beans and butter for more olive oil to make it plant based. Add chili flakes to the lemon garlic marinade for a little kick.
Notice: Content at this site is not intended to prescribe, treat, mitigate, prevent, diagnose or cure any medical condition or its symptoms, which advice should only be obtained from a qualified health professional.