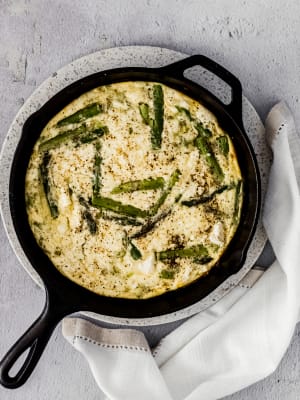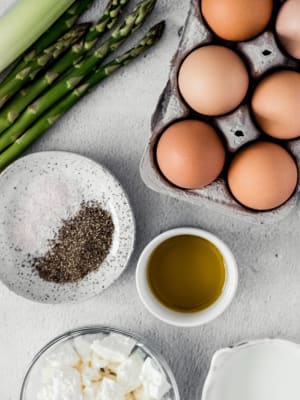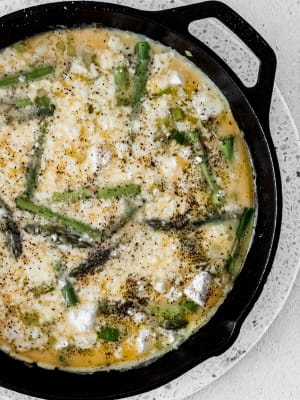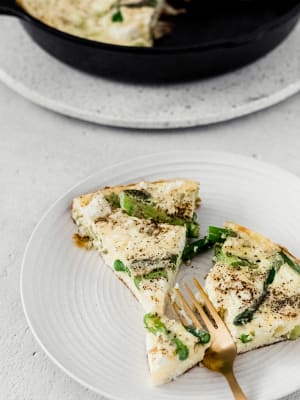 Frittata's are a super fun way to get more veggies into your diet, and of course, eggs! They are also a great edition to your weekly meal prep. If you're a big fan of onions, then you'll love leeks, too! They belong to the same family as onions and garlic so they have similar health promoting benefits. Leeks can help support heart health and are cancer fighting with their antioxidants.
Instructions
1

Preheat oven to 400 degrees F.

2

In a large bowl, add the eggs and whisk.

3

Add ¼ teaspoon sea salt, black pepper, almond milk and whisk again. Add the asparagus pieces. Set aside.

4

Add the olive oil to a cast iron skillet and swirl it around to make sure it's all coated, even up the sides.

5

Add the chopped leeks, ¼ teaspoon sea salt, and saute for 4-5 minutes or until they become soft and translucent.

6

Pour the egg mixture into the cast iron skillet and let it set for 20-30 seconds before you gently stir to make sure the leeks are mixed in with the eggs.

7

Add the crumbled feta.

8

Transfer the cast iron skillet to the oven for 13-15 minutes, or until the eggs have set.

9

Let it cool for about 5 minutes before you cut it into slices.

10

Store leftovers in an airtight container in the fridge for up to 3 days.

11

Substitutions: Dairy free cheese can be subbed for feta or be omitted entirely. Add more vegetables like tomatoes or peppers.
Notice: Content at this site is not intended to prescribe, treat, mitigate, prevent, diagnose or cure any medical condition or its symptoms, which advice should only be obtained from a qualified health professional.