Kale Sweet Potato Superfood Salad
Recipe by Isra Al-Salem


Ingredients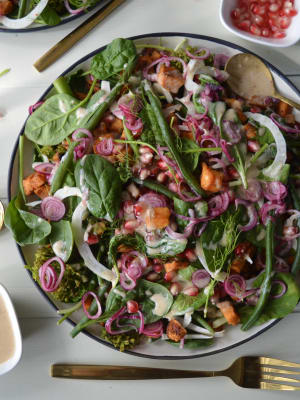 This salad contains liver-supportive and detoxing cruciferous vegetables, such as kale, and broccolini. The leafy greens provide additional fiber and minerals, are alkalizing, and improve digestion. The dressing consists of anti-inflammatory and anti-microbial properties, as well as gut supportive probiotics found in labneh (yogurt and kefir). The vinegar and mustard in the dressing promote healthy skin.
Instructions
1

Place baked and cooked vegetables in bowl (sweet potatoes, green beans, broccolini).

2

Add the pomegranate, baby kale and fennel to the bowl.

3

Combine the remainder of the ingredients together in a blender or whisk until thoroughly combined.

4

Toss the salad in the dressing.

5

Top with fermented or pickled shallots.
Notice: Content at this site is not intended to prescribe, treat, mitigate, prevent, diagnose or cure any medical condition or its symptoms, which advice should only be obtained from a qualified health professional.