Hot Italian Sausage & Kale Frittata
Recipe by Julia Gibson


Ingredients
Serves 06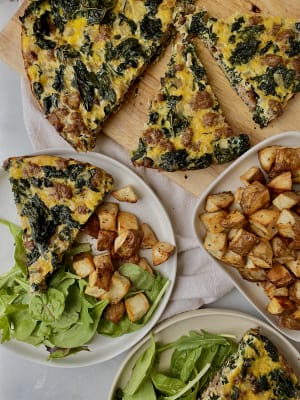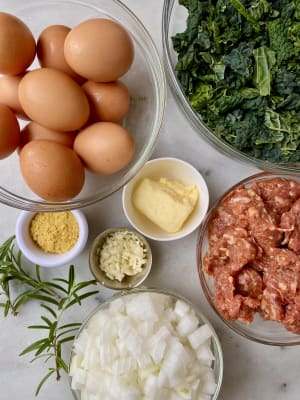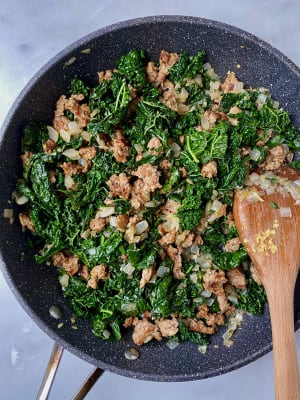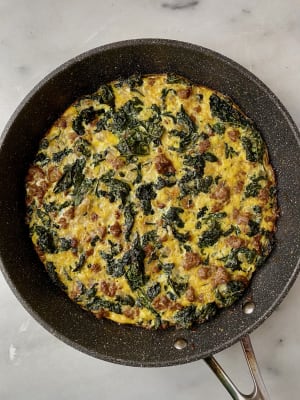 This frittata is inspired by one of my favourite pasta dishes, and is full of nourishing ingredients. With crisp spicy sausage, fresh herbs, garlic and more kale than you thought possible, this frittata is as nourishing as it is delicious. It makes the perfect brunch option, or a great breakfast that can be made ahead of time and enjoyed on busy mornings.
Instructions
1

Preheat the oven to 350 degrees Fahrenheit.

2

Heat a large oven-safe skillet over medium heat. Remove your sausages from their casings. Once hot, add the sausage to the skillet and cook. Stir and break up, until it is browned and cooked through, about 6-8 minutes. Transfer the sausage to a plate and set aside.

3

Add the olive oil to the skillet and once hot, add the onion cooking for about 5 minutes until softened, translucent and slightly browned. Add the garlic and rosemary, season with salt and pepper and cook for another minute before adding in the chopped kale. Cook until bright green and wilted then turn off the heat, stir in the cooked sausage and the nutritional yeast and season once more with salt and pepper. Pour the eggs over the mixture, and tilt the pan to evenly distribute.

4

Bake for 30-35 minutes, until the top is slightly golden and the eggs are set. Cut into wedges and serve on it's own or with greens and roast potatoes.
Notice: Content at this site is not intended to prescribe, treat, mitigate, prevent, diagnose or cure any medical condition or its symptoms, which advice should only be obtained from a qualified health professional.