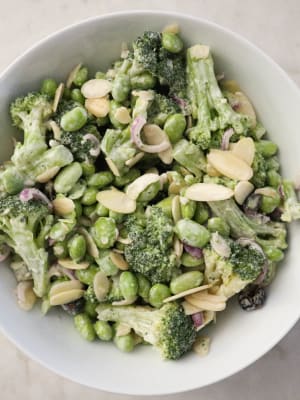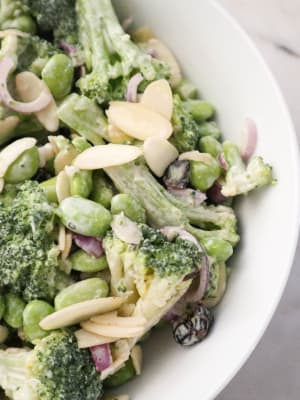 A delicious broccoli salad that packs a punch! The broccoli in this salad will provide roughly 6 grams of protein, not to mention a high source of glucosinolates. These are compounds that may help reduce the risk of cancer. But that's not all… The edamame in this salad provides a whopping 17 grams of protein to boot. Who needs meat?
Instructions
1

Combine the broccoli, edamame, onion and dried cranberries into a large bowl and toss so that all the ingredients are well mixed and set aside

2

In a separate bowl, combine the tahini, maple syrup, lemon juice, sea salt, garlic, olive oil and water. Stir until well combined

3

Pour dressing onto the salad and stir until dressing has covered the salad completely

4

Garnish with sliced almonds

5

Substitutions: Sub peas for edamame. Sub avocado oil for olive oil. Sub honey for maple syrup. Omit sliced almonds to make nut free.
Notice: Content at this site is not intended to prescribe, treat, mitigate, prevent, diagnose or cure any medical condition or its symptoms, which advice should only be obtained from a qualified health professional.