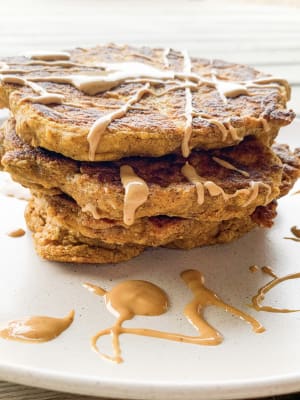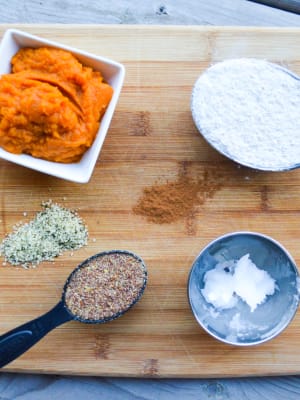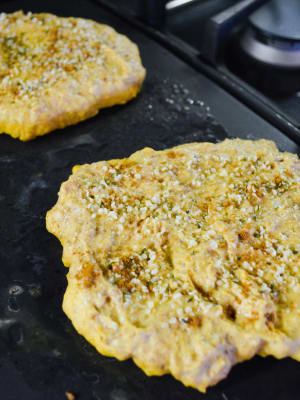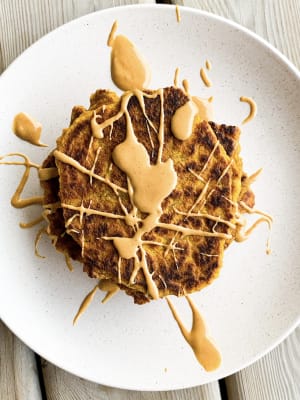 Traditional pancakes, made with white flour and loaded with butter and maple syrup, are a bit of a nutritional void and more of a special occasion treat item. But these pumpkin pancakes offer so much good nutrition that they can be a regular part of your healthy diet! With a few easy tweaks, these pancakes are not only delicious, but pack a ton of quality nutrition. Gut health is supported by replacing white flour with whole wheat. Replace ¼ cup of flour with ground flax, and sprinkle with hemp hearts to boost the fiber content and omega-3 fatty acids. Loaded with slow-to-digest complex carbohydrates, these plant-based vegan pancakes are a great option for diabetics. Ground flax and hemp hearts are high in heart healthy omega-3's, helping to reduce the risk of heart disease. Best of all? All ingredients are combined in the blender, making them foolproof!
Instructions
1

Add all ingredients (ideally add liquids first) to a blender and blend until combined and smooth. Don't over blend! Let the batter rest for 5-10 minutes.

2

Preheat a griddle or frying pan to medium and lightly grease with vegan butter or coconut oil. Ladle ~1/3 cup scoops of batter onto the griddle and cook for 2-3 minutes until bubbles appear, then flip gently and cook for another 2-3 minutes. Tip: sprinkle pancakes with hemp hearts before you flip them to boost the nutrition!

3

Top with toppings of your choice. My personal favourite way to eat pancakes is with a healthy slathering of PB and berries!

4

Optional: stir in fruits, nuts, or chocolate chips to the blended batter before cooking for something extra!

5

Serve immediately with butter, almond butter or pure maple syrup, if desired.

6

*Not a fan of pumpkin or don't have any on hand? Substitute the pureed pumpkin for applesauce, mashed squash/sweet potato or banana.

7

*Don't have any ground flaxseed? Replace ground flaxseed 1:1 with whole wheat flour.
Notice: Content at this site is not intended to prescribe, treat, mitigate, prevent, diagnose or cure any medical condition or its symptoms, which advice should only be obtained from a qualified health professional.