Hasselback Squash with Prociutto
Recipe by Jaclyn Irwin


Ingredients
Serves 04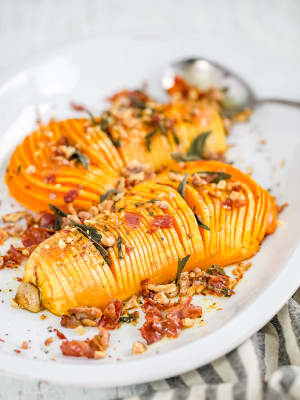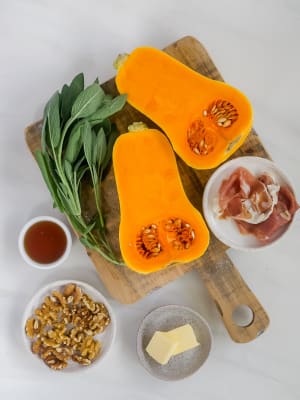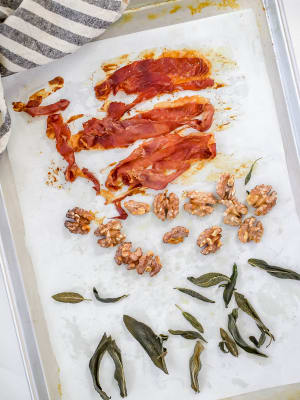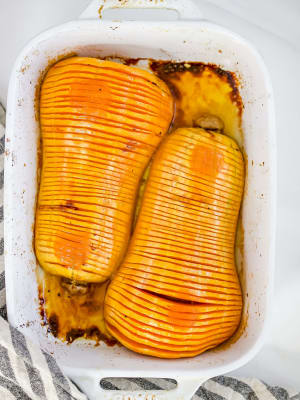 This is a wonderful dish to serve to guests over the holidays as its definitely a showstopper! Although, it takes a little bit of time to prepare, it's worth it. This recipe is great for gluten free, diabetes, grain free and low sugar conditions or diets.
Instructions
1

Preheat the oven to 425ºF.

2

Place the squash in a baking dish and rub all over with olive oil, salt and pepper. Place cut side down and roast for 15 minutes, until just softened enough that you can cut into it.

3

Meanwhile, in a small bowl, melt the butter and combine with the maple syrup and set aside.

4

Once the squash is done roasting, place it on a cutting board and use chopsticks or two wooden spoons and place on each side of the squash lengthwise. This will prevent you from slicing all the way through the squash. Use a sharp knife to slice through the squash going as deep as possible without cutting all the way through.

5

Return the squash to the baking dish, scored sides up and brush with about half of the maple butter mixture. Place back in the oven to roast for 25 to 30 minutes.

6

Meanwhile, on a baking sheet lined with parchment paper, place the prosciutto slices, sage leaves and walnuts.

7

Remove the squash and baste with the remaining maple butter mixture. Place the baking sheet in the oven on a separate rack for ten to 15 minutes, along with the squash.

8

Remove the squash and the baking sheet from the oven once the squash is cooked through and the prosciutto is crispy and walnuts are toasted. Roughly chop the walnuts, sage and prosciutto and scatter all over the squash. Serve immediately and enjoy!

9

Substitutions: No pork: omit the prosciutto. Nut-Free: use pumpkin seeds. No dairy: use ghee or a vegan butter instead.
Notice: Content at this site is not intended to prescribe, treat, mitigate, prevent, diagnose or cure any medical condition or its symptoms, which advice should only be obtained from a qualified health professional.