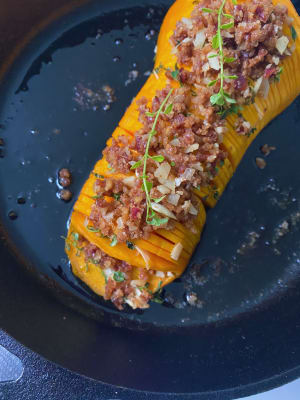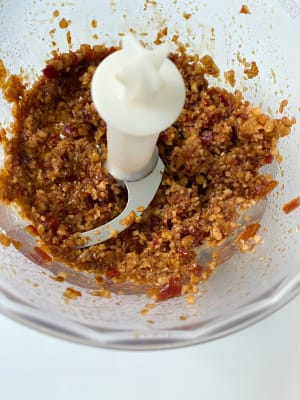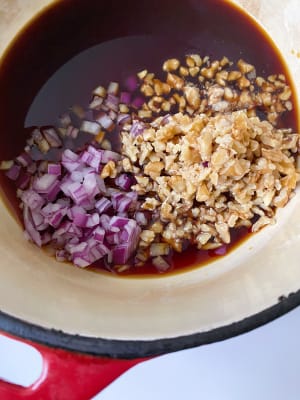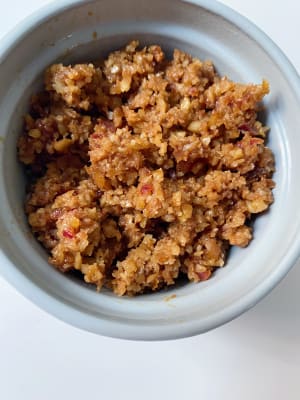 This savoury butternut squash with walnut meat is the perfect dish for any plant-based diet. Make it Keto-friendly and IBS approved by subbing out maple syrup. Ingredients listed are for both walnut meat and squash.
Instructions
1

In a thick bottom pot combine all the ingredients and bring to a simmer. Simmer for 10 minutes, remove from heat and steep for 30 minutes, covered.

2

Strain, add to a food processor and pulse until meat texture is achieved. Store in the refrigerator for up to one week.

3

Preheat the oven to 400F.

4

Place the unpeeled, uncut butternut squash in the oven for 10 minutes. Remove and allow to cool. This will soften the butternut squash and make it easier to cut and peel.

5

Turn the oven down to 375F.

6

Using a chef knife, cut the squash, cutting almost all the way through. Do this to the full length of the squash, to create a "fan".

7

Alternating folds, place a piece of garlic and a piece of time, to the full squash. Season with salt and ¼ tsp oil.

8

Heat the oil and melt the butter in a cast iron skillet on medium high heat. Add the butternut squash to the pan, fan side up and cook for 10 minutes.

9

Place the cast iron skillet in the oven and bake for 25 minutes.

10

In a bowl mix the parmesan and walnut meat; spoon over the butternut squash and bake for an additional 5 minutes.
Notice: Content at this site is not intended to prescribe, treat, mitigate, prevent, diagnose or cure any medical condition or its symptoms, which advice should only be obtained from a qualified health professional.