Greek Yogurt & Chia Breakfast Bowl
Recipe by Carley Nadine


Ingredients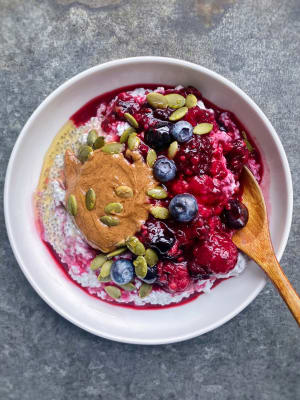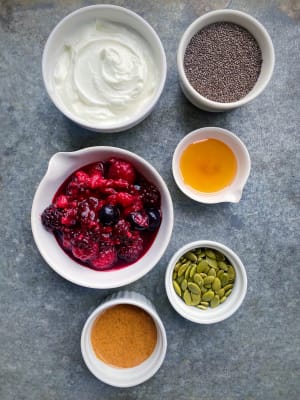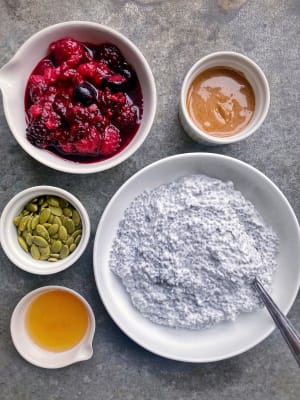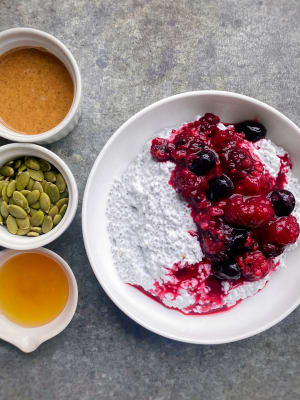 This Greek Yogurt and Chia Breakfast Bowl recipe is made with wholesome ingredients and no refined sugar. It's thick, creamy, and is the perfect healthy snack! Made with 5 simple ingredients, one bowl, and a whisk. This nourishing, protein and fiber packed breakfast is easy to make and will last in the fridge for up to 5 days. Greek yogurt can be substituted for dairy-free coconut yogurt. Use berries of your choice, like blueberries, strawberries, black berries or acai berries.
Instructions
1

In a medium bowl, mix together the yogurt and almond milk. Stir in the chia seeds. Cover and set in the refrigerator overnight. If you can, stir the chia seed mixture a couple times after putting it in the refrigerator, it will help prevent clumps.

2

In the morning, give the chia seed pudding a good mix, breaking apart any clumps.

3

Stir in another spoonful or two of yogurt, if desired. In a small pot add berries and honey and stir until the berries are warm. Spoon into two bowls, top with whatever you desire such as nut butter, pumpkin seeds, hemp hearts

4

Omit honey for less sugar. Omit honey and fruit altogether to make it keto!

5

Substitutions: Sub greek yogurt for coconut yogurt to make gluten free. Omit honey for less sugar. Omit fruit and honey to make keto.
Notice: Content at this site is not intended to prescribe, treat, mitigate, prevent, diagnose or cure any medical condition or its symptoms, which advice should only be obtained from a qualified health professional.