Grain-Free Seeded Sandwich Bread
Recipe by Julia Gibson


Ingredients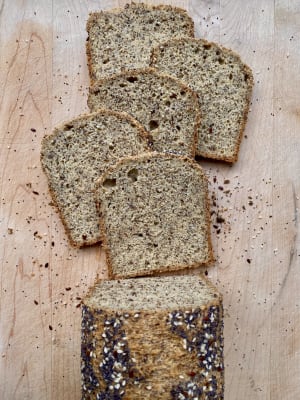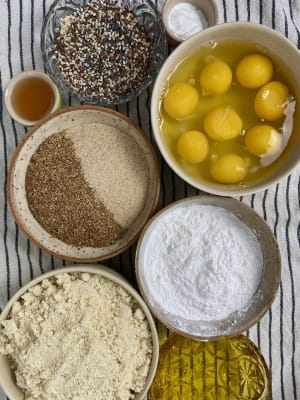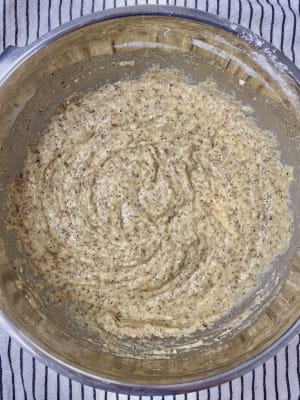 A super easy grain free loaf that is soft, spongy and toasts to perfection. Full of healthy fats, fibre and protein, and a mixture of seeds for extra crunch and texture.
Instructions
1

Preheat oven to 350 degrees Fahrenheit and line a loaf pan with parchment paper.

2

In a large bowl, whisk together the almond flour, tapioca starch, ground flax seed, psyllium husk powder, baking powder, sea salt and half of each of the sesame seeds, flax seeds and poppy seeds, setting the remains seeds to the side to sprinkle on top.

3

In another bowl, whisk together the eggs, olive oil, water and apple cider vinegar. Pour the wet mixture into the dry ingredients and use a spatula to mix until combined.

4

Transfer the batter into the prepared pan and smooth the top. Sprinkle the remaining seeds on top. Baking in the preheated oven for 1 hour and 15 minutes, or until cooked through. Allow to cool for 10 minutes in the pan before transferring to a wire rack to finish cooling, before slicing. Will keep for 1 week in the fridge, or can be frozen for longer.

5

Substitutions: Use avocado or coconut oil in place of the olive oil. Omit seeds to keep it plain. Substitute listed seeds for another variety, such as pumpkin or sunflower seeds. Add a couple teaspoons of cinnamon and a large handful of raisins, for a cinnamon raisin spin on the bread
Notice: Content at this site is not intended to prescribe, treat, mitigate, prevent, diagnose or cure any medical condition or its symptoms, which advice should only be obtained from a qualified health professional.