Gluten-Free Sourdough Stuffing
Recipe by Julia Gibson


Ingredients
Serves 08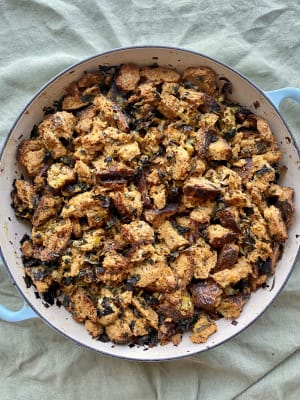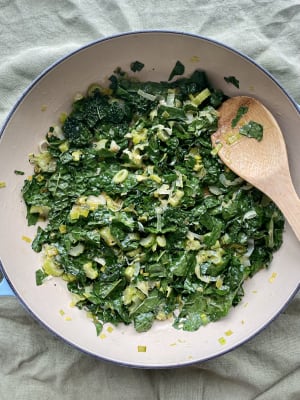 The perfect way to use our Gluten-Free Sourdough recipe. Full of kale for some extra greens and baked so that it's crispy on top and tender in the middle, this will forever be a go-to Thanksgiving recipe.
Instructions
1

Prep: Gluten Free Sourdough Loaf, torn into 1-inch pieces and spread on baking sheets to dry out overnight or baked in an oven set to 250 degrees Fahrenheit until dried

2

Melt the butter in a large skillet over medium heat. Add the onions and celery and sauté until they begin to brown. Add to as large bowl along with the bread, herbs and salt and pepper, and stir to combine. Drizzle in 1/2 the broth and toss gently. Set aside to cool.

3

Preheat oven to 350 degrees Fahrenheit. Whisk the eggs with the remaining broth, then add to the bread mixture, folding in gently until well combined.

4

Grease a large baking dish with butter. Pour the bread mixture into the dish, cover with tin foil and bake for about 40 minutes. Remove tin foil and bake for another 40-45 minutes, until the stuffing is browned and crispy on top.

5

Do ahead: Bake the covered stuffing for just 40 minutes the day before, then bake uncovered for 50-60 minutes the day of until browned and crispy on top.
Notice: Content at this site is not intended to prescribe, treat, mitigate, prevent, diagnose or cure any medical condition or its symptoms, which advice should only be obtained from a qualified health professional.