Gingersnap Pumpkin Pie
Recipe by Julia Gibson


Ingredients
Serves 08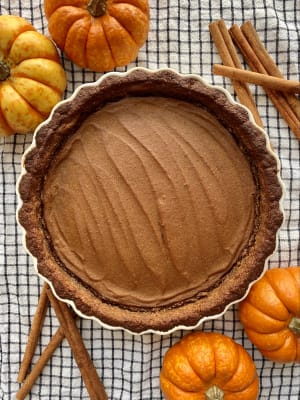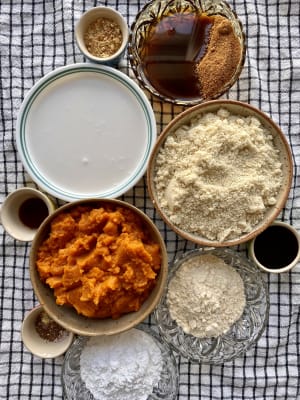 A grain-free gingersnap cookie crust gets filled with a luscious vegan pumpkin filling for truly the ultimate plant-based pumpkin pie. Perfect for those of us who think the spice is the most important part of a pumpkin pie.
Instructions
1

Preheat your oven to 350 degrees Fahrenheit and grease a pie or tart dish with coconut oil.

2

In a large bowl, combine the almond flour, coconut flour, 1/3 cup of coconut sugar, ginger, cinnamon, baking soda, salt, melted coconut oil, molasses and flax egg until a dough is formed. Press the dough into an even layer in a tart pan or pie dish. Chill in the freezer for 10 minutes, then dock the crust with a fork.

3

Bake for 10 minutes, then remove from the oven and let cool for at least 10 minutes, while you prep the filling.

4

In a blender, combine the pumpkin puree, coconut milk, maple syrup, vanilla extract, coconut sugar, tapioca starch, spices and salt until smooth and fully combined. Pour into the pre-baked pie crust. Bake for another 30 minutes, then lower oven to 325 degrees Fahrenheit and bake for another 25-35 minutes, until the filling is set and only very slightly jiggly. Cover just the crust with aluminum foil during baking as needed, in case the crust starts to brown too quickly.

5

Allow to cool for 2-3 hours until completely set before serving. Serve with fresh whip cream or coconut whip, and a sprinkle of cinnamon.
Notice: Content at this site is not intended to prescribe, treat, mitigate, prevent, diagnose or cure any medical condition or its symptoms, which advice should only be obtained from a qualified health professional.