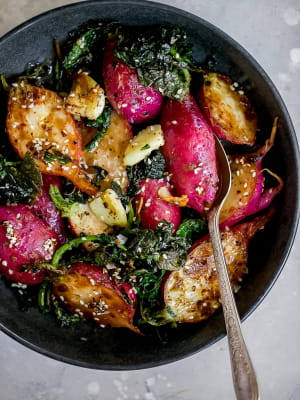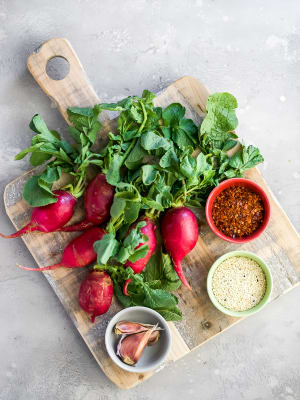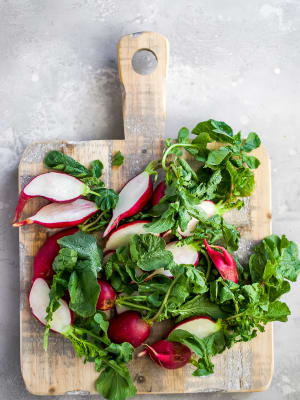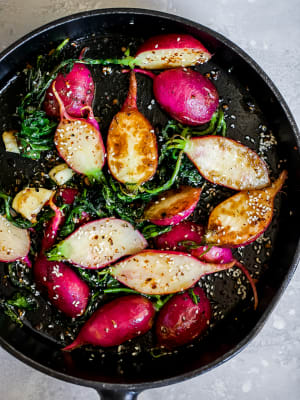 If you haven't tried roasting or pan-frying radishes yet, I hope this convinces you. Once roasted they have a sweeter taste but still maintain that crunchy exterior. These are pan fried in minutes and tossed with Aleppo pepper, giving a bit more kick. If you can find fresh radishes with their tops on, keep them on and use them when frying or roasting. They'll get crispy like kale chips and also contain lots of health benefits too. This is great for gluten free, grain-free, vegetarian, diabetes and low sugar conditions or diets.
Instructions
1

Heat a large cast iron skillet over medium heat.

2

Once the pan is hot, pour the olive oil into the skillet. Place the radishes in the skillet and season with salt and pepper. Cook, cut side down for three to four minutes, until browned slightly and then turn over.

3

Add the smashed garlic to the skillet and stir. Add the ghee to the skillet along with the Aleppo pepper. Toss everything together and spoon the ghee over top of everything as it's cooking. During the last minute of cooking, add the sesame seeds and toss.

4

Remove the skillet from the heat. Place the radishes on a serving plate or bowl. Season to taste with salt.

5

Substitutions: No ghee, use butter or omit and just use olive oil. No Aleppo pepper, use chili flakes but halve the amount.
Notice: Content at this site is not intended to prescribe, treat, mitigate, prevent, diagnose or cure any medical condition or its symptoms, which advice should only be obtained from a qualified health professional.