Garlic Lemon Linguine with shrimp
Recipe by Jaclyn Irwin


Ingredients
Serves 02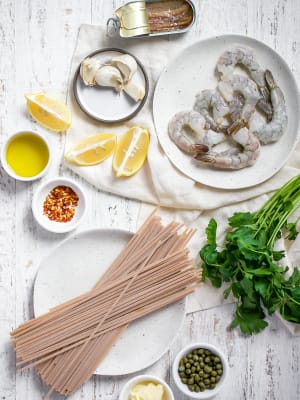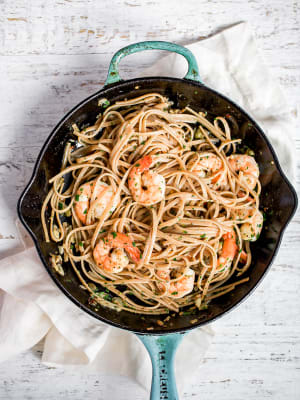 A delicious and easy shrimp pasta made with simple ingredients but packed with flavour. This recipe is packed with seafood from shrimp and anchovies which are not only nutritious but also delicious.
Instructions
1

In a large pot of salted water, cook the pasta according to package instructions, then drain and set aside. Reserve some past water for the sauce (about ¼ cup).

2

Pat the shrimp dry very well and season with salt and pepper.

3

In a large cast iron skillet over medium-high heat, add one tablespoon of olive oil. Add the shrimp and sear on one side for two to three minutes per side, until shrimp turns pink and then remove and set aside.

4

In the same skillet, over medium heat, add one more tablespoon of oil and then add the capers and fry until crispy. Then add the anchovies, garlic and chili flakes until fragrant.

5

Add the pasta to the pot and then add the some of the reserved pasta water along with the remaining oil and lemon juice. Toss to coat everything well. Add the shrimp back to reheat and the parsley.

6

Divide onto plates, season with salt and pepper and more parsley. Enjoy!

7

Substitutions: No wheat: use a gluten free pasta. No anchovies: omit. Less spice: omit the chili flakes.

8

Note: Use high quality anchovies packed in oil for the best taste.
Notice: Content at this site is not intended to prescribe, treat, mitigate, prevent, diagnose or cure any medical condition or its symptoms, which advice should only be obtained from a qualified health professional.