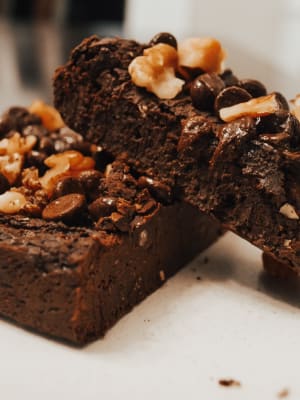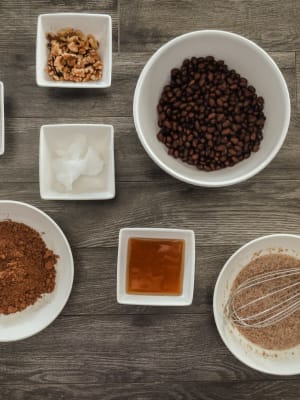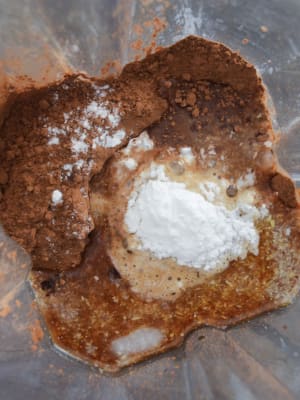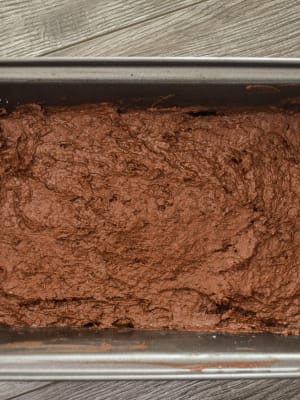 These black bean brownies are everything that brownies are meant to be – fudgy, moist and sweet (but not too sweet). But they provide A LOT more nutrition than your average brownie. They are loaded with fiber, prebiotics and heart healthy omega-3 fatty acids. Not to mention they are gluten-free, flourless and completely plant based! Cocoa is packed with polyphenols (healthy plant chemicals) and has even been shown to help manage high blood pressure, a key risk factor for heart disease. Black beans are loaded with prebiotics – food for our good gut bacteria – which are linked to improving blood sugar control, supporting bone and skin health and supporting our immune system. Walnuts have the highest content of heart healthy omega-3 fatty acids of any nut. Best of all? These brownies are prepared in the blender, meaning they are quick and very simple to make. And with so many healthy ingredients, they barely even count as a dessert!
Instructions
1

Preheat oven to 350 degrees F (176 C).

2

Lightly grease an 8 x 4 inch loaf pan. I prefer to use coconut oil, but use whatever oil you have on hand!

3

Prepare flax egg by combining flax and warm water in a medium bowl and whisking together thoroughly to combine. Let sit for 5 minutes.

4

Add all ingredients (besides walnuts and chocolate chips) to a food processor and blend until smooth – scraping down the sides as needed. A blender will work if you do not have a food processor, but a food processor is preferable. Stir in the chocolate chips.

5

Evenly distribute the batter into the loaf pan and smooth the top with a spatula. Sprinkle with crushed walnuts and additional chocolate chips, if desired.

6

Bake for 25-30 minutes or until the top is dry. Mine took about 30 minutes.

7

Remove from oven and let cool for 30 minutes before removing from pan. They will be soft, so remove gently. These brownies are very fudgy so don't be concerned if they seem too moist. If they still seem a bit undercooked, put them in the fridge overnight and they will firm right up!

8

Store in an airtight container in the fridge for up to five days.

9

Substitutions: Avocado or olive oil can be used instead of coconut oil. Honey or organic cane sugar can be used instead of maple syrup if desired. You can swap 2 large eggs for for flax eggs, if desired.
Notice: Content at this site is not intended to prescribe, treat, mitigate, prevent, diagnose or cure any medical condition or its symptoms, which advice should only be obtained from a qualified health professional.