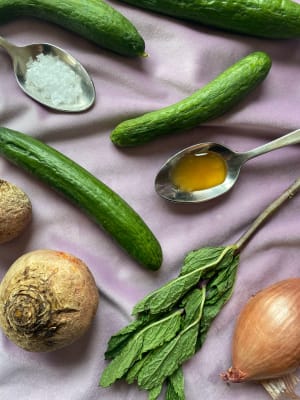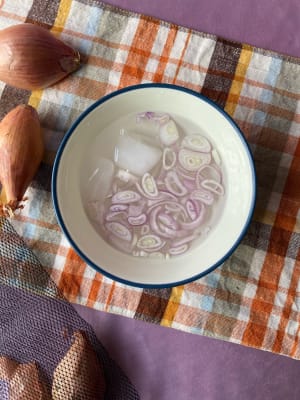 Stay cool and hydrated with this refreshing summer salad. Perfect as an appetizer, side dish, or even as a light lunch.
Instructions
1

Slice shallot into very thin rings. Place shallot in a bowl of ice water to separate rings. Drain, then add lime juice to the bowl. Mix well and let sit.

2

Prep your veggies while the shallot is pickling. Remove the rind from the cantaloupe and cut it into wedges. Ribbon your cucumbers using a mandolin. If you don't have a mandoline, use a vegetable peeler and let the cucumbers sit in a strainer so excess water can drain off. Slice the beet very thin, then cut the slices into strips. Roll mint leaves up, and chop into long strips.

3

Whisk together olive oil and honey. Toss yellow beet strips in the mixture.

4

Plate cantaloupe wedges, and cucumber ribbons.

5

Remove the beet from the dressing. Let the excess oil drain, then add to the plate.

6

Sprinkle with mint, and a few pickled shallot rings.

7

Store the pickled shallot in lime juice in the fridge for up to one week.

8

Drizzle with olive oil honey blend, and sprinkle with lots of finishing salt.
Notice: Content at this site is not intended to prescribe, treat, mitigate, prevent, diagnose or cure any medical condition or its symptoms, which advice should only be obtained from a qualified health professional.