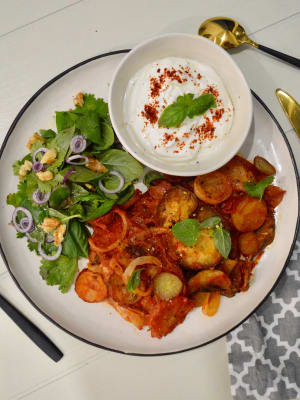 This dish contains immune supportive ingredients. Mushrooms are immune modulating, while turmeric combats inflammation, and onions and garlic are antimicrobial. It includes tomatoes, which are high in the antioxidant lycopene and B vitamin - folate, both support heart health. The additional beans are a great source of fiber and plant based protein that aids in blood sugar management. This meal is light, but satiating.
Instructions
1

Preheat the oven to 475 F.

2

In a large pyrex or casserole dish, layer slices of onions, potatoes, mushrooms, eggplants, and tomatoes; in that order.

3

In a bowl, mix crushed tomatoes, broth, garlic, lemon juice, olive oil and seasoning (cumin, dried lime, turmeric, salt and pepper) into a sauce.

4

Evenly pour the sauce over the baking dish.

5

Place the baking dish into the oven and let it bake for 45 minutes. For a thicker sauce, bake in the oven upto an additional 15 minutes longer.

6

Garnish with basil or any fresh herbs, salt and pepper to taste.

7

Serve with your choice of rice, spaghetti squash, quinoa, pearl couscous, or a flat bread of your choice and a side salad. Pairs deliciously well with labneh or greek style yogurt.

8

Meat Based Substitutions: replace mushrooms with ground beef (meatballs or small kabobs, wrapped in eggplant) or cubed size pieces of chicken breast. Note: for this option, cook for an additional 30 mins at 450 F. Plant Based Protein Substitutions: 1 cup of chickpeas or any beans/legumes of your choice (pre-soaked and cooked) or 1 cup/block of partially cooked tempeh.
Notice: Content at this site is not intended to prescribe, treat, mitigate, prevent, diagnose or cure any medical condition or its symptoms, which advice should only be obtained from a qualified health professional.