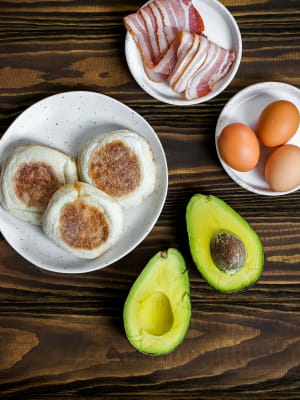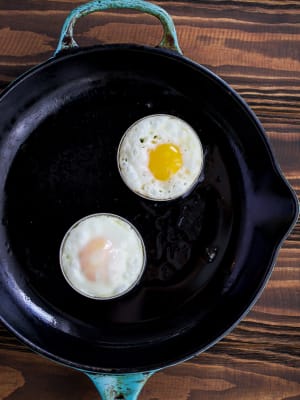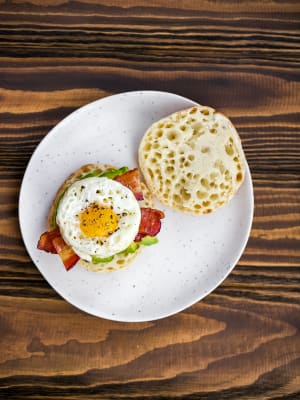 Breakfast can be on the table in no time with these easy breakfast sandwiches. Use a circle mold (or the removable lid from a large mason jar) to keep the eggs in perfect sandwich circles. This is great for low sugar and gluten free conditions or diets.
Instructions
1

Preheat the oven to 400ºF and line a baking sheet with aluminum foil. Place the bacon strips on the baking sheet and bake for 15-17 minutes until cooked through to your liking.

2

Meanwhile, heat a skillet over medium heat. Butter the rings of two large mason jar lids and place on the skillet.

3

Crack the eggs into a mug or small bowl. Once the skillet is hot, pour the egg into the mold while pressing the mold down with a knife. Cover with a lid and cook for two minutes until the whites are cooked through and the yolk is still runny.

4

Toast your english muffins.

5

Add the avocado slices to the bottom of the english muffin and season with salt. Add the bacon on top and then the egg, season with salt and pepper. Enjoy!

6

Substitutions: No pork, use turkey or vegan bacon. Gluten Free, use a gluten free english muffin.
Notice: Content at this site is not intended to prescribe, treat, mitigate, prevent, diagnose or cure any medical condition or its symptoms, which advice should only be obtained from a qualified health professional.