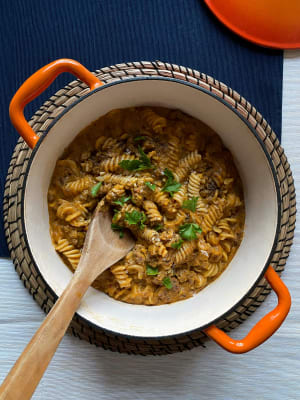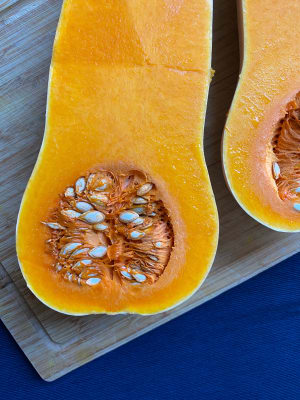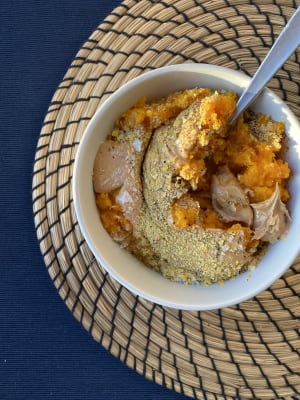 Even as an adult I get cravings for the convenience foods I grew up on. I often can't eat the original versions so I look to make healthy alternatives that still provide the same kind of comfort. This dairy-free version of hamburger helper uses butternut squash to create a creamy sauce instead of the usual ingredients.
Instructions
1

Pre-heat oven to 400F. Cut the butternut squash in half lengthwise. Scoop out the seeds and pulp. Brush the squash with one tablespoon of avocado oil. Place the squash face-down on a lined baking sheet. Let cook for 40-50 minutes, until the squash edges begin to brown and it is easily pierced with a fork.

2

While squash is cooking, heat the other two tablespoons of oil in a large heavy pot over low-medium heat. Add onion and cook, stirring often, until softened, about 5 minutes. Then add in garlic and ground beef. Cook over medium heat until ground beef is no longer pink, around 8 minutes.

3

Add in tomato paste, spices, and broth. Bring water to a simmer then add in pasta. Cover and simmer for 10-12 minutes, until the pasta is cooked through. Be sure to check on pasta while it's cooking, and add more water if needed.

4

Once the squash has finished cooking, let it cool slightly. Once cool enough to handle, mix in 1 ½ cups cooked butternut squash with cashew butter and nutritional yeast. Once it is thoroughly combined, mix it into the pot. Combine until well mixed.

5

Pop the pot in the oven at 350F for 10-15 minutes to warm it up slightly. Serve topped with chopped parsley and salt and pepper to taste.
Notice: Content at this site is not intended to prescribe, treat, mitigate, prevent, diagnose or cure any medical condition or its symptoms, which advice should only be obtained from a qualified health professional.