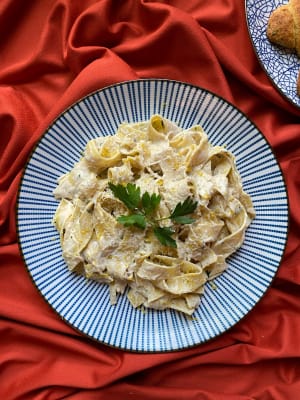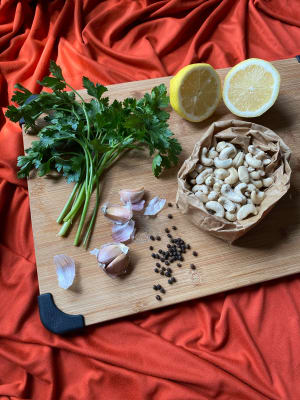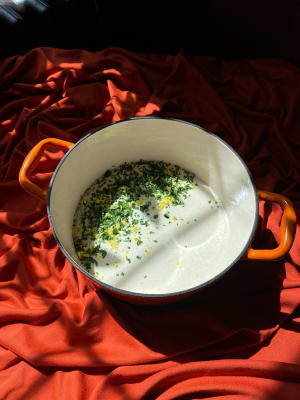 Alfredo sauce is a classic favourite, but unfortunately, most of us can't handle that much heavy cream regularly. In place of cream, cashews make up the base of this dairy-free alfredo. Aromatic herbs and fresh lemon give this extra creamy sauce a lite and fresh feel. Serve it over grilled chicken or roasted vegetables, or keep it classic, tossed with pasta.
Instructions
1

Soak cashews overnight or for a minimum of 3 hours.

2

Blend cashews and half of the water until creamy and smooth. Add in the remainder of the water and blend again until smooth. You want this to get at smooth and creamy as possible.

3

Heat a heavy-bottomed pot over low heat—lightly oil the pot.

4

Add the blended cashew sauce and minced garlic to the pot. Let cook for 10 minutes, stirring throughout to ensure the sauce doesn't stick.

5

Add the nutritional yeast, salt, freshly ground pepper, garlic powder and onion powder. Turn heat up to medium, and let cook for another 5-7 minutes, whisking fairly constantly. Make sure to scrape down the sides of the pot throughout this part of the cooking process to ensure the sauce doesn't clump or stick. Once done, the sauce should reduce in volume slightly and thicken to the consistency of a regular alfredo sauce.

6

Remove from heat and stir in fresh parsley, lemon juice, and zest—season with additional salt to taste.

7

Serve warm over pasta, chicken or roasted vegetables, like crispy broccoli.
Notice: Content at this site is not intended to prescribe, treat, mitigate, prevent, diagnose or cure any medical condition or its symptoms, which advice should only be obtained from a qualified health professional.