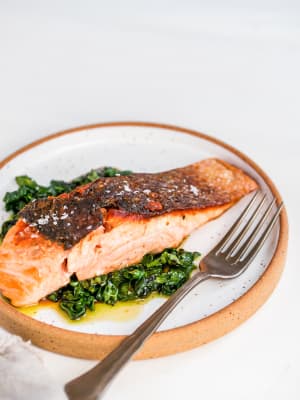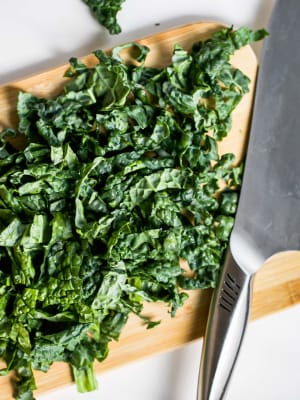 The easiest salmon there ever was with crispy skin and sauteed kale. Salmon is rich in protein and healthy fats. It is one of the best sources of EPA and DHA, which can decrease inflammation, help lower blood pressure, and even reduce the risk of cancer.
Instructions
1

Use a paper towel to blot dry the salmon and season the flesh with salt and pepper.

2

In a small bowl add the rice vinegar, tamari, honey and arrowroot powder and whisk well.

3

Heat a cast iron skillet over medium heat. Once the skillet is hot, add the oil. Add the salmon skin side down and cook until the flesh is opaque all the way up the sides of the fillet and only the top of thickest part is still translucent. depending on thickness. This will take anywhere from f to 8 minutes, depending on thickness.

4

Turn the filet using tongs or a spatula and remove the pan from the heat. Cook for about one minute longer. Transfer carefully to a plate.

5

Return the pan to the hot element and heat over medium. Add the kale and cook for 1 to 2 minutes, until slightly wilted and softened. Add the sauce to the pan and stir quickly to combine and turn off the heat.

6

Remove the kale and place on a plate, top with the salmon. Serve and enjoy!

7

Substitutions: No rice vinegar, use lime juice. No extra virgin olive oil, use avocado oil. No lacinato kale, use regular curly kale. No tamari, use soy sauce or coconut aminos. No arrowroot powder, use cornstarch.
Notice: Content at this site is not intended to prescribe, treat, mitigate, prevent, diagnose or cure any medical condition or its symptoms, which advice should only be obtained from a qualified health professional.