Crispy Haddock with Root Vegetables
Recipe by Julia Gibson


Ingredients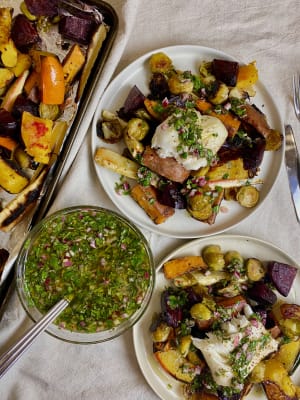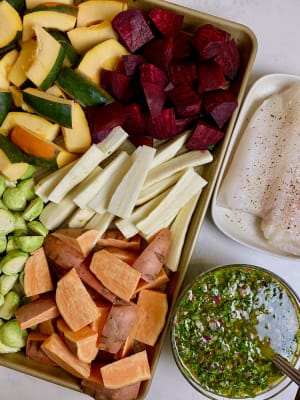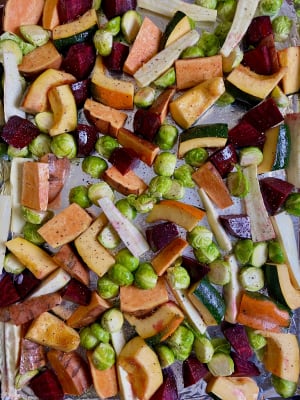 The earthy sweetness of the root vegetables and the perfectly cooked flakey haddock are elevated with the bright herby addition of the chimichurri.
Instructions
1

Preheat oven to 400 degrees F and line 1 large and 1 small baking sheet with parchment paper.

2

Spread cut vegetables out on the large baking sheet evenly. Drizzle with olive oil and season with salt and pepper. Use your hands to toss the vegetables to make sure they're all evenly seasoned and oiled. Bake for 25 minutes, tossing halfway through.

3

Meanwhile, prepare the fish and make the chimichurri. Place the fish on the small baking sheet, drizzle both sides with a little bit of olive and season both sides with salt and pepper. To make the chimichurri, combine all the ingredients (cilantro, parsley, garlic, red onion, oregano, red chili flakes, salt, olive oil, red wine vinegar, lemon) in a bowl and set aside to marinate.

4

Once the vegetables have cooked for 25 minutes, add the fish to the oven and cook both the vegetables and the fish for another 15-20 minutes, until the fish is cooked through and the vegetables have crisped up. Toss the vegetables halfway through again if necessary.

5

Divide the vegetables amongst 4 plates and top each with a piece of fish. Spoon the chimichurri generously over the meal.
Notice: Content at this site is not intended to prescribe, treat, mitigate, prevent, diagnose or cure any medical condition or its symptoms, which advice should only be obtained from a qualified health professional.