Creamy Mushroom Soup
Recipe by Jaclyn Irwin


Ingredients
Serves 04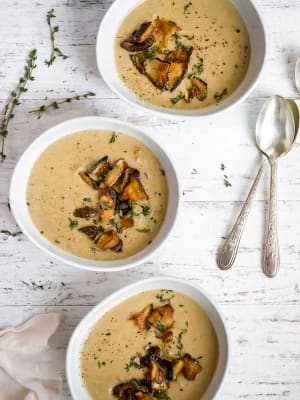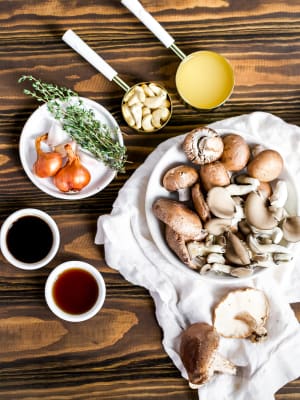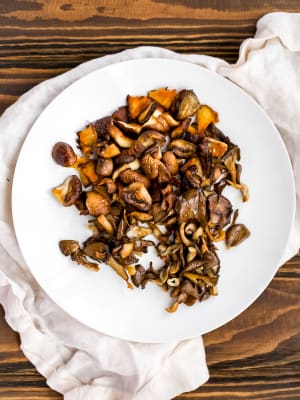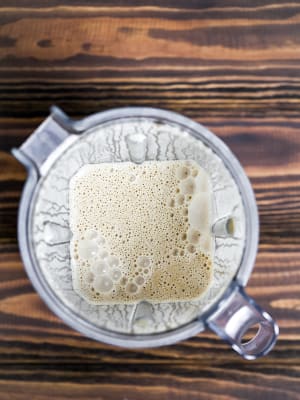 This dairy-free and creamy mushroom soup is perfect for a cold day. The trick to making this soup even better is taking time to brown your mushrooms in batches. This will provide so much flavour and texture as you top your soup with them at the end. This is great for diabetes, kosher, plant-based diets, low sugar and gluten-free diets.
Instructions
1

Place the cashews in a bowl and cover with just boiled hot water. Let soak for at least 30 minutes until softened.

2

In a large cast iron skillet over medium heat, add some of the olive oil and then working in batches, add the mushrooms and ensure there is space for them to cook without overcrowding the pan. Cook undisturbed for three minutes, until browned then give them a toss and continue cooking for another one to two minutes more. Repeat with remaining mushrooms until all are cooked. Remove and set them aside on a plate and season with salt.

3

Lower the heat to medium-low and add more oil if needed. Add the shallots and cook for three to four minutes, until softened. Then add the garlic and cook for one to two minutes, until fragrant.

4

Add the sherry vinegar to deglaze the skillet. When most of the vinegar has been cooked off, add the vegetable broth. Add about half of the browned mushrooms back to the pot.

5

Bring to a simmer and cook for about five minutes.

6

Once the cashews are soft, drain and set aside.

7

Transfer about 2 cups of the soup (including some of the mushrooms in the pot, not the reserved ones) to a blender. Add the cashews and tamari. Blend until smooth

8

Pour back into the pot and stir and let simmer for ten minutes. Season with salt and pepper.

9

Divide into bowls, and top with the reserved browned mushrooms and thyme. Enjoy!

10

Substitutions: Mushrooms: use any mix of your favourite mushrooms. No shallot: use half a large yellow onion. No sherry vinegar: use white wine, or rice vinegar. No vegetable broth: use chicken broth. No tamari: use soy sauce or coconut aminos.
Notice: Content at this site is not intended to prescribe, treat, mitigate, prevent, diagnose or cure any medical condition or its symptoms, which advice should only be obtained from a qualified health professional.