Cracked Pepper & Rosemary Crackers
Recipe by Danielle Wiens


Ingredients
Serves 40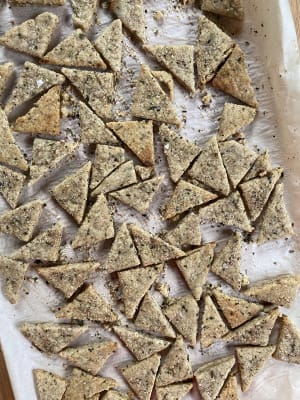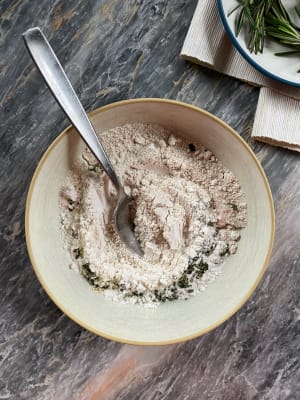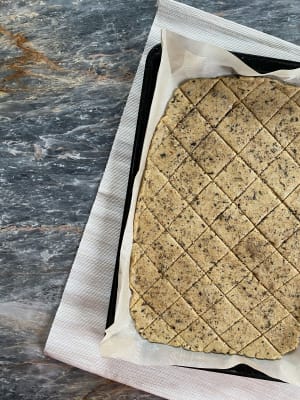 Fresh herbs, oats and olive oil are the base of these crispy gluten-free crackers. These crackers are light and almost buttery, making them the perfect pairing to anything from hummus to pate.
Instructions
1

Preheat oven to 300F.

2

Mix together ground flax and 3 tablespoons of water. Let sit.

3

In a mixing bowl, combine ground oats, flour, rosemary, onion powder, baking soda and sea salt. Stir to combine well.

4

Create a well with the dry ingredients and add oil to the centre. Using a fork, slowly press the dry mix into the oil. Dough should be crumbly when done.

5

Add the ground flax mixture to the dough, repeating the same process as step 4.

6

Add water to the mix, 1 tablespoon at a time. Repeating the same process as before. Dough should be semi-sticky but not crumbly. Be careful to not overwork the dough or it will form tough crackers.

7

Form dough into a ball. Roll it out on parchment paper until it is about 1/8th an inch thick.

8

Brush dough with olive oil, flip and brush the other side.

9

Sprinkle dough with crushed peppercorns and flaked sea salt.

10

Cut the dough into squares or triangles. Transfer parchment paper to a baking sheet.

11

Place in the oven and bake for 10 minutes.

12

Remove crackers from the oven. Separate slightly and place back in the oven for 8-10 minutes. Crackers should be light golden brown in colour and firm to the touch. Let them cool on a cooling rack.
Notice: Content at this site is not intended to prescribe, treat, mitigate, prevent, diagnose or cure any medical condition or its symptoms, which advice should only be obtained from a qualified health professional.