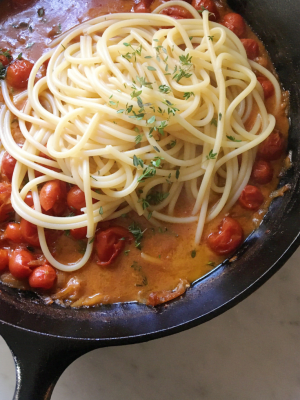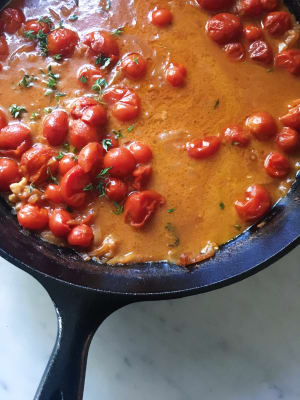 Enjoy this creamy coconut rose sauce with your favourite pasta, like quinoa, corn, chickpea, or brown rice!
Instructions
1

Heat the oil in a saute pan on medium high heat, add the onions and garlic and cook, stirring, for 5 minutes, or until the onions and garlic become fragrant.

2

Add the cherry tomatoes and cook for 2 minutes.

3

Stir in the crushed tomatoes, bouillon and 1 tbsp of thyme; cook for 5 minutes stirring.

4

Stir in the coconut milk and bring to a simmer; add the chili flakes and adjust seasoning with salt.

5

Serve with cooked pasta of your choice and garnished with thyme.
Notice: Content at this site is not intended to prescribe, treat, mitigate, prevent, diagnose or cure any medical condition or its symptoms, which advice should only be obtained from a qualified health professional.