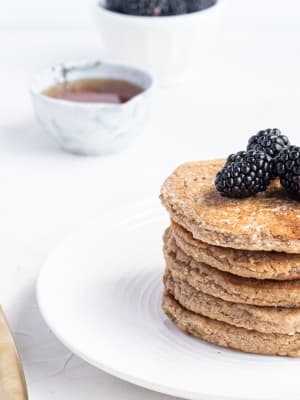 Oat flour and coconut flour are great alternatives for using in pancakes. They still have the density of a traditional pancake but are gluten-free and packed with fibre for supporting digestion, heart health, detoxification, etc.
Instructions
1

In a blender or food processor, blend the oats until a flour forms. It doesn't have to be completely smooth. Pieces of oats give the pancakes a nice texture.

2

In a large bowl, add the blended oats, coconut flour, cinnamon, coconut sugar, sea salt and baking powder. Mix to combine.

3

In a small bowl, add the egg and whisk. Add the almond milk and vanilla extract and mix to combine.

4

Add the wet ingredients into the dry ingredients. Mix to combine.

5

The batter will be like a cake batter but a little bit thicker because of the oats. If you need to add more liquid, you can do so.

6

Over medium heat, add 1 tablespoon of coconut oil to a large frying pan (you might need to add more as you go). Once heated, start your first pancake by pouring a ¼ cup of the batter into the pan (using a measuring cup helps). You will need to spread the batter out to get your desired size (aim for approx. ½ inch thickness).

7

Cook each pancake for 1.5-2 minutes per side, depending on your pan. Keep an eye out for any bubbles or golden brown edges, that will be a sign to flip! You can do 1 or 2 pancakes at a time.

8

Serve with toppings like nut butter, coconut butter, maple syrup, nuts and seeds, grass-fed butter, berries, coconut whip.

9

You can store them in an airtight container in the fridge for 2-3 days. You can even freeze them and then pop them in the toaster.
Notice: Content at this site is not intended to prescribe, treat, mitigate, prevent, diagnose or cure any medical condition or its symptoms, which advice should only be obtained from a qualified health professional.