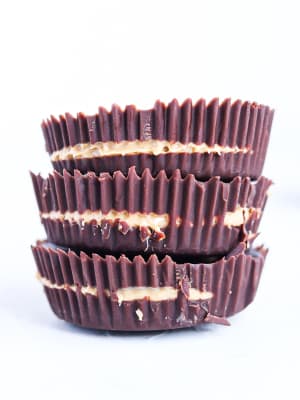 These are like the oh so popular fat bombs. Healthy fats from the coconut oil and cashew butter will help to keep you satiated when you're looking for a filling treat. These are also a healthier alternative for peanut butter cups you would find in the candy aisle.
Instructions
1

Line a muffin pan with muffin 7 muffin liners.

2

In a small saucepan on low heat, melt the coconut oil.

3

Add in the chocolate chips and stir continuously to melt them and to ensure the chocolate doesn't burn.

4

Once melted, pour 1 tablespoon of melted chocolate into each muffin liner. Set the rest aside.

5

Put in the freezer for 15 minutes.

6

Remove from freezer and add 1 heaping teaspoon of cashew butter to each cup.

7

Add 1 tablespoon of melted chocolate to each cup (use any leftover to top up each cup).

8

Put back in the freezer for 30 minutes to 1 hour.

9

When ready to eat, remove paper.
Notice: Content at this site is not intended to prescribe, treat, mitigate, prevent, diagnose or cure any medical condition or its symptoms, which advice should only be obtained from a qualified health professional.