Chickpea Pasta with Broccoli Pesto
Recipe by Tina Gravalos


Ingredients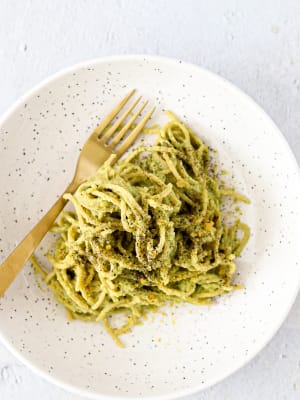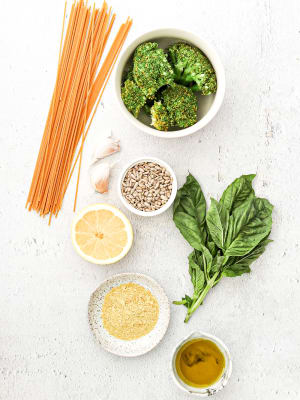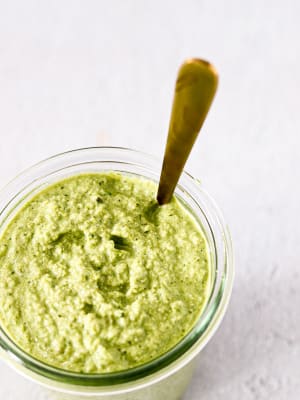 This is the perfect recipe to use up broccoli you have in the fridge or just whip it up because you love broccoli! Broccoli is a super powerful cruciferous vegetable. It is loaded with Vitamin C, Vitamin K and other protective antioxidants. It helps to detoxify toxins and lower oxidative stress. This makes broccoli a powerful cancer fighting veggie.
Instructions
1

In a small pot, add 1-2 inches of water and bring to a boil. Add broccoli florets and cover with lid. Steam for about 3-4 minutes. Drain and run under cold water. Set aside.

2

Cook pasta according to package. Reserve some pasta water.

3

While pasta is cooking, add all other ingredients to a blender and blend until pesto reaches desired consistency. You can blend it longer if you want it to be really smooth and creamy. Set aside. Add more water if needed.

4

In a pan over medium low heat, add 2 tablespoons of olive oil and then add the cooked pasta. Stir to coat pasta in oil. Remove from heat.

5

Pour ½ cup of pesto over pasta and mix. Add more if desired. You can add 1-2 tablespoons of pasta water if you want to thin out the pesto.

6

Substitutions: No chickpea past, use any other gluten-free or regular pasta. No sunflower seeds, use a handful of pine nuts instead.
Notice: Content at this site is not intended to prescribe, treat, mitigate, prevent, diagnose or cure any medical condition or its symptoms, which advice should only be obtained from a qualified health professional.