Chicken & Rice Soup
Recipe by Fran Allen


Ingredients
Serves 04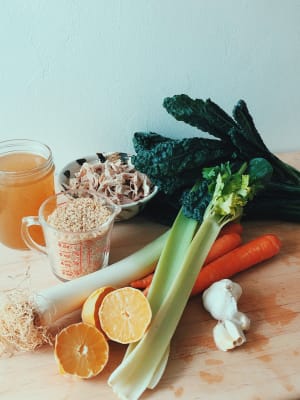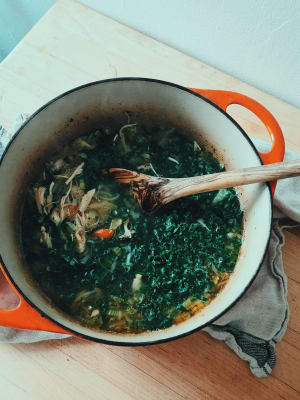 This recipe is the easiest and most delicious way to use up leftover chicken. This soup comes together in less than an hour and makes an addition to your meal prep routine. Full of freshness and nutrients this soup makes an easy lunch or dinner when you want something fast, fresh and comforting.
Instructions
1

In a heavy bottomed pot on medium heat add your oil and veggies. Saute until soft and fragrant.

2

Add in your bay leaf, chicken, rice and broth. Simmer and turn the heat to low, cook until rice is tender.

3

Once rice is cooked, taste and adjust seasoning. Adding more salt and pepper if needed. Then add in your shredded kale and cook until bright green.

4

Remove the pot from the heat, add lemon juice and zest and fresh dill. Serve immediately and enjoy! Garnish with extra olive oil, lemon and fresh pepper.

5

Substitutions: Feel free to make this recipe plant based by substituting vegetable stock for chicken stock and replacing the shredded chicken with 115oz can of white beans.
Notice: Content at this site is not intended to prescribe, treat, mitigate, prevent, diagnose or cure any medical condition or its symptoms, which advice should only be obtained from a qualified health professional.