Chewy Oat and Fruit Energy Bars
Recipe by Fran Allen


Ingredients
Serves 12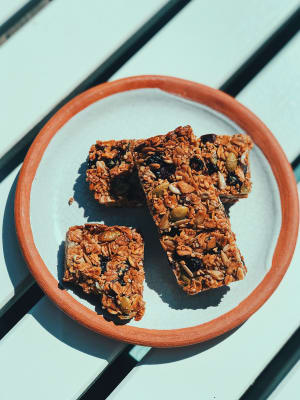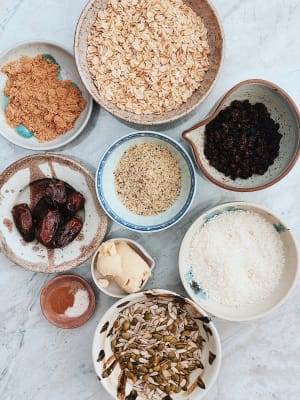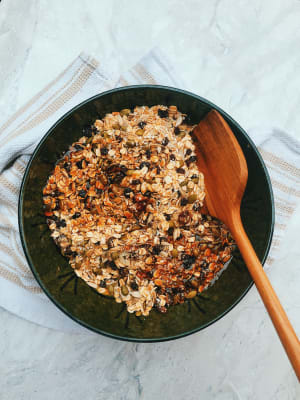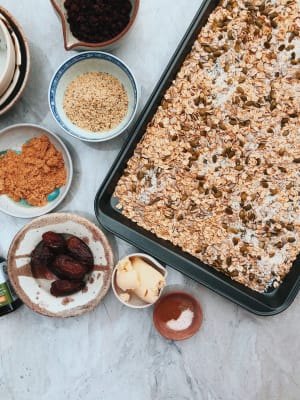 These perfectly chewy homemade granola bars are the perfect midday snack for a boost of energy and nutrients. Loaded with healthy fats, fibre and molasses, these are great for postpartum healing and chest feeding!
Instructions
1

Preheat the oven to 300 and line a 3 x 9-inch baking pan with parchment paper. Allow the paper to extend over the sides to avoid any sticking of your bars.

2

In a large bowl, combine oats with seeds, coconut and dried fruit and set aside. In a small saucepan on medium heat combine honey, coconut sugar, molasses, ghee, sea salt and vanilla. Stir well and allow mixture to simmer for 1 minute.

3

Immediately pour honey mixture over oat and fruit mixture; toss gently to coat. Press mixture firmly into the prepared pan (use wet hands to avoid sticking) Bake at 300° for 30 minutes or until slightly golden brown.

4

Allow to cool completely before removing from the pan, cut into 12 bars and enjoy! Store leftovers in an airtight container for up to 7 days or in the freezer for up to 3 months.

5

Gluten free: use gluten free oats, Dairy free: use vegan butter
Notice: Content at this site is not intended to prescribe, treat, mitigate, prevent, diagnose or cure any medical condition or its symptoms, which advice should only be obtained from a qualified health professional.